The image of a place
| | |
| --- | --- |
| Date: | 24 November 2017 |
| Author: | L.G. Horlings |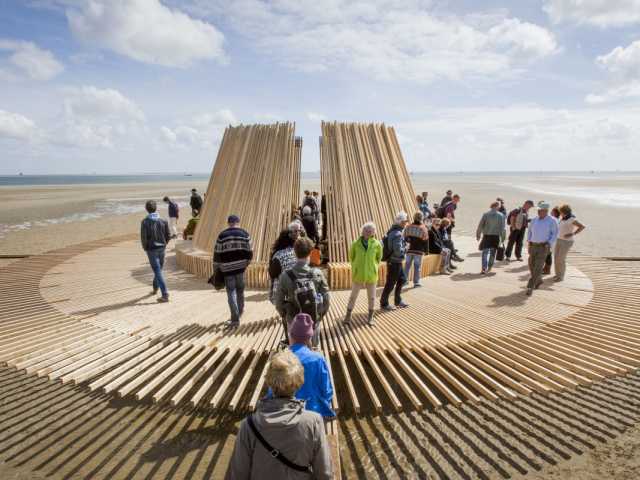 This inspiring event was organized in 'Holwerd at sea' by the Knowledge Network Northern Space and the national knowledge institute cultural education and amateur art. More than 140 people attended the event.
Ellis Bulder, lector at the Hanze Hoogeschool talks about the role of livability, art and heritage especially in areas which face a shrinking populaton. According to an estaimation of the Netherlands Environmental Assessment Agency (PBL) the population shrinkage will continue between 2015 and 2030 in provinces such as Groningen, although there are large differences between regions.
Cultural heritage can play a significant role in these shrinking areas (De Graaf, 2014) as: signboard, meeting place, totem pole and as breeding ground for new 'culturentrepreneurs'. The cultural heritage monitor shows that there are almost 61.959 monuments and 470 protected village views in the Netherlands. There are several good practices such as the Kunstlerstadt Kalbe in Germany art city Kalbe where artists have worked closely with citizens. Ellis Bulder is now developing an innovation workshop "kunst contra krimp" together with the applied university Minerva and international partners.
Joop Mulder, former creative director of the Oerol festival, initiates projects in the field of cultural landscape development to bring about changes in the area around the Wadden Sea (Sense of Place). He wants to install magnets in villages which attract visitors, support slow tourism and create a buzz. Examples are a new Pier and viewpoint in the sea at Wierum and a dike shaped like a female body. He also aims to develop a project together with potato producers in Groningen who have a large influence on the landscape. Till now he already listed 50 potential projects. However, acquiring the necessary permits and governmental barriers slow down the process.
During the workshops artists presented 9 different dilemma's. The participants provided advice based on the rules for intervision. Mulder's dilemma was how to communicate to and engage village inhabitants in the project Sense of Place. Several suggestions were provided to great a joint spirit and mobilise place ambassadors.
For more information you can subscribe to the regular electronic newsletter including reports of meetings, or look at the website Kennis voor krimp.