SUSPLACE Autumn School, Aveiro, Portugal October 2-6
| | |
| --- | --- |
| Date: | 09 October 2017 |
| Author: | Nienke Busscher |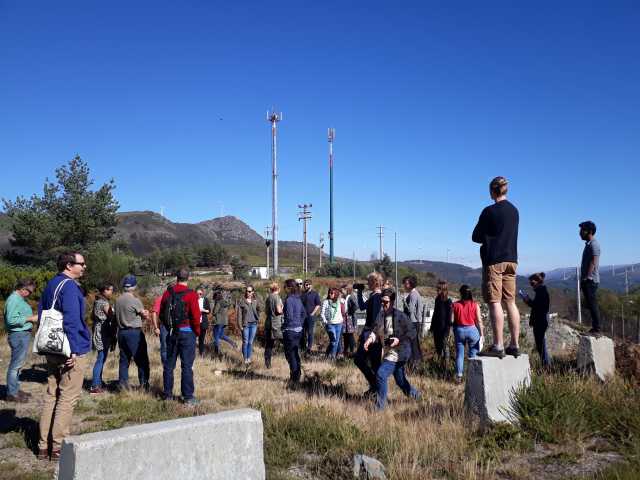 From 2 till 6 October the SUSPLACE Autumn School 'Shaping Places Crossing Disciplinary Boundaries' took place in Aveiro, Portugal. SUSPLACE is a Marie Skłodowska-Curie Actions Innovative Training Network funded by the European Commission (see www.sustainableplaceshaping.net for more information). I participated in the Autumn School together with 15 Early Stage Researchers from SUSPLACE and 4 other externals, to work on how sustainable places can be shaped. A group of researchers set up a very interactive program to enhance our skills in interdisciplinary research methods through workshops, a fieldtrip, lectures and poster presentations. From the University of Groningen Prof. Ina Horlings was present as one of the organizers of the Autumn School and coordinator of the SUSPLACE program.
The Autumn School included keynote lectures by scholars and practitioners such as Prof. Adrian Smith (SPRU/Steps Centre) and dr. Maria Tengö (Stockholm Resilience Centre). Adrian talked about grassroots initiatives and makerspaces. Makerspaces are community-based workshops where people can access tools, skills and collaborators to help them design and make almost anything they wish. These initiatives are often set-up as forms of technological disobedience as a response to exclusionary societal practices. However, as discussed by Adrian, it is questionable if these spaces really change the practices they criticise and how inclusive these spaces are. Maria presented her work on sense of place, place attachment and place meanings, and how this contributes to sustainable place-shaping. She used a socio-ecological systems approach to analyse projects for conservation and water management. Research carried out in India and South Africa illustrates that strong attachments to place can act as an enabler as well as a barrier to transformational change and sustainable place shaping.
Next to the lectures we had a fieldtrip to Ansiães (North-east of Aveiro) where we were guided by villagers on their common lands. This locality is challenged in managing their common lands of around 2,000 hectares. Currently around 500 people inhabit this area but there has been a severe outmigration due to the lack of opportunities in the region. Therefore, the village leaders are involved in the SUSPLACE project to find solutions to the deterioration of the area. As part of the fieldtrip, we had a workshop in which we created future sustainable scenarios for the community to attract people and income opportunities, based on an Appreciative Inquiry Approach.
One of things that will stick with me of the SUSPLACE Autumn School are the 'energizers' that were implemented in the morning and at moments when the group was low on energy. The whole group would stand up to move around, stretch, sing, and dance. These energizers surely helped to make this Autumn School in the lovely Aveiro an unforgettable experience.