Molecular Pharmacology
The department of Molecular Pharmacology focusses on the pharmacology of receptors – specific pharmaceuticals aimed at molecular targets located at the plasma membrane and mitochondria – and on the accompanying signaling. Our research focusses on the translation to chronic and age-related diseases - associated with defective and/or derailed cellular signaling - like brain diseases (e.g. Alzheimer's and Parkinson disease), infectious diseases (e.g. influenza, Aspergillus fumigatus in the frame of antimicrobial resistance) and lung diseases (asthma, COPD, pulmonary fibrosis). Molecular processes that underlie (tissue) remodeling and repair have our special focus. We aim to identify new drug targets and to evaluate new drugs for these diseases. Our research is performed in collaboration with researchers and medical doctors from the UMCG, ERIBA and GELIFES, and in collaboration with the pharmaceutical industry.
In our in vitro studies - using cell cultures of a wide variety of (primary) cells – we investigate a wide array of cellular responses, including but not limited to (I) inflammatory responses (ELISA, cell migration, PCR), (II) cell proliferation (DNA incorporation techniques, MTT assay), (III) mitochondrial function (assays for mitochondrial respiration, ER-mitochondrial contact points, calcium and ROS determination) (IV) matrix protein production (immunoblotting, immunofluorescence microscopy), (V) epithelial cell plasticity (air-liquid interface cultured epithelial cells, organoids), (VI) stem cell biology (iPSC induced neurons, microglia, organoids, organ-on-chip models), and many immunoassays related to innate and adaptive immune responses (flow cytometry, phagocytosis and activation/migration assays). We use silencing of genes using siRNA or overexpression the respective protein via transfection of DNA constructs. We use RNAseq and single cell sequencing to assess global changes in gene expression patterns in disease and in response to environmental factors and drugs. We also investigate changes in metabolic profile and mitochondrial proteins by targeted proteomics and Seahorse extracellular flux analyser. The activation status of protein kinases (e.g. immunoblotting of phosphorylated proteins) or transcription factors (i.e. luciferase bases gene transcription assays) are investigated. Cellular responses are studied using isolated organ preparations from either guinea pig, murine, bovine or human (tissue from surgical patients; in collaboration with the UMCG) origin. We perform contraction/relaxation studies on isolated smooth muscle strips and in so-called "precision cut lung slices" using a microscope connected to a video system. Ex-vivo hippocampal brain slices are used for studying brain cell communication and their associated responses to Alzheimer and Parkinson's disease stimuli. Cell-cell communication either between various brain cell types or between the peripheral organs and brain cells are studied using state-of-the-art techniques, such as organ-on-a-chip and stem cell technology. Neuronal inflammatory responses and other cellular changes can be studied in (human/murine) brain slices by using (immuno)histochemical techniques. We measure mitochondrial metabolism (e.g. Seahorse, Oroboros), and perform multi-electrode arrays.
Our in vivo studies use animal models that can be used to mimic chronic disease such as asthma, COPD, pulmonary fibrosis, and neurodegenerative disorders. For asthma, we use continuously recording and on-line monitoring of the lung function in permanently instrument freely-moving guinea pigs. With this asthma model, allergen-induced early and late asthmatic reactions, airway inflammation and hyper-reactivity to histamine are observed. A guinea pig model of COPD, in which an inflammatory response is induced by lipopolysaccharide (LPS: a component of the membrane of Gram-negative bacteria) is used as well. We use mouse models of allergen-induced asthma, of cigarette smoke or elastase-induced COPD, of bleomycin or silica-induced fibrosis and of influenza-induced viral pneumonia. A major advantage of these murine models is the possibility of using transgenic mice (e.g. mice that differentially express target proteins due to a genetic alteration). Remodeling (airway/lung) processes are quantified using histology and (fluorescence) microscopy, inflammation and immune responses are studied using flow cytometry.
We are proud that we have a lot of in-house expertise to perform these measurements.
Specific project information: website http://www.rug.nl/fmns-research/molecular-pharmacology/research/index
In addition, the university spin-off company Aquilo is housed within our department. Aquilo is a contract research organization (CRO), founded in 2015. Aquilo is focused on the respiratory system and assists clients, in particular pharmaceutical companies, with pre-clinical efficacy testing of novel compounds or therapies for lung diseases. For this, we use models for lung fibrosis, COPD and asthma, including in vivo animal models, ex vivo lung slice and organoid models, and in vitro models with cells of human origin, including diseased cells. Furthermore, we function as a core lab for multi-center clinical trials. We assist with processing and analyses of several samples, including bronchial washes and brushes, and perform, amongst others, cytokine and gene expression analyses. We work in close collaboration with the department of Molecular Pharmacology, and have a number of ongoing shared projects and publications. You can find more information on www.aquilo.nl.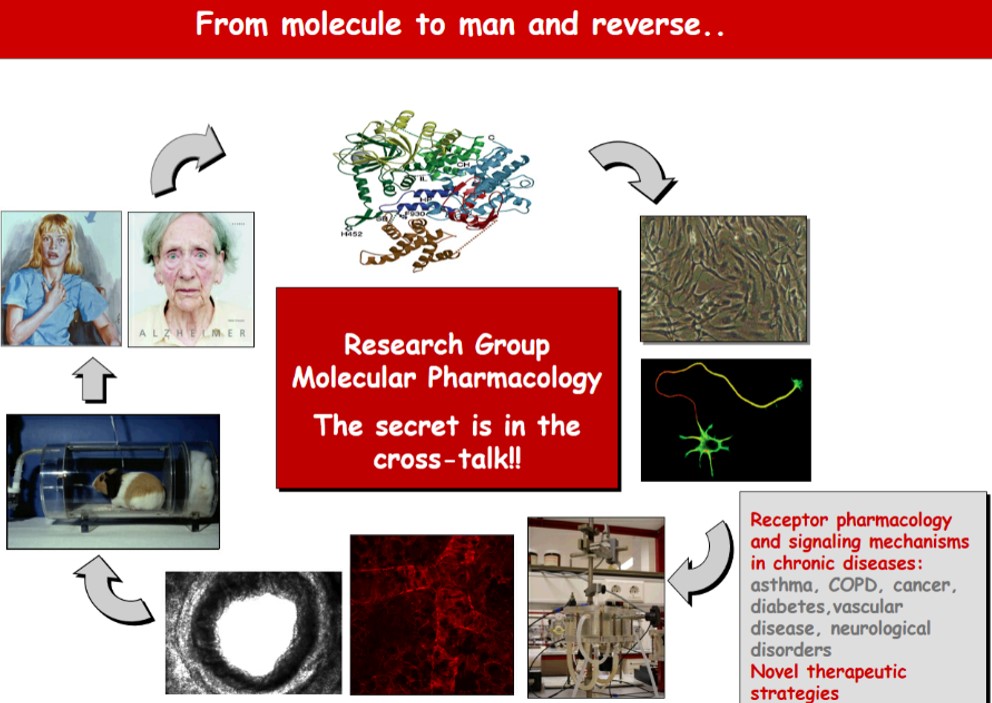 | | |
| --- | --- |
| Last modified: | 16 May 2022 09.15 a.m. |