Arts, Medium and Moving Images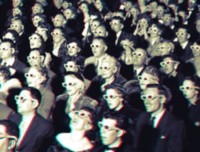 This theme group concentrates on the production, aesthetics, reception and impact of film and other contemporary audiovisual screen media. There is a focus on the philosophical, cognitive and phenomenological relation between audiovisual art and its audience, the social, technological and artistic developments in the field, historiographical, epistemological, and ontological questions regarding media objects and practices, and the materiality and medium-specificity of artworks.
The theme group 'Arts, Medium and Moving Images' hosts four guest lectures per semester, introducing well-known scholars from Film and Media Studies to the academic community in Groningen (for upcoming lectures, please take a look at the ICOG events calendar ).
Project showcase
An example of research within this theme group is the project 'Historical Turns: Weimar Cinema and the Crisis of Historicism' by Nicholas Baer. This project places films of the Weimar Republic in conversation with the 'crisis of historicism' that was widely diagnosed by German intellectuals in the interwar period. Through close analyses of The Cabinet of Dr. Caligari, Destiny, Rhythm 21, The Holy Mountain, and Metropolis, Baer argues that pioneering films of the 1920s participated in the critique of historicism, engaging with ontological, epistemological, and historiographical questions of the philosophy of history. More broadly, the project challenges the historicist tenets of New Film History and expands the field of Film and Philosophy, probing the nexus between cinema and historical-philosophical inquiry.
Involved researchers
Nicholas Baer
Frank Blaakmeer (PhD)
DeBeer Cloete (PhD, University of the Free State)
Maraike Marxsen (PhD, University of Hamburg)
Miklós Kiss (chair)
Landi Raubenheimer (PhD, University of Johannesburg)
Julia Schumacher
Andrew Tucker (PhD)
| | |
| --- | --- |
| Last modified: | 07 August 2020 08.19 a.m. |