Art, Medium, and Moving Images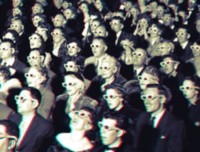 This theme group concentrates on the impact of social and technological developments on artistic media, on the production of mixed media and on the instable inter-art relationships between the art forms. There is a focus on problems of remediation and intermediality, the materiality of the artwork, the relations between technological and artistic innovations in the field and the relation between artistic medium and audience.
Project showcase
An example of research within this theme group is the project 'Riddle Films: Cognitive Dissonance in Contemporary Complex Cinema' by Miklós Kiss and Steven Willemsen. By blending film studies and cognitive sciences, this project looks into the relation between complex storytelling and the mind. Analysing the effects that different complex stories have on viewers, the research addresses how films strategically create complexity and confusion. It introduces the specific category of riddle films to examine movies that use baffling paradoxes, impossible loops, and unresolved ambiguities in their stories and storytelling. By looking at how these films play on our mind's blind spots, this project explains their viewing effects in terms of the mental state of cognitive dissonance that they evoke.
Involved researchers
| | |
| --- | --- |
| Last modified: | 06 May 2019 10.24 a.m. |