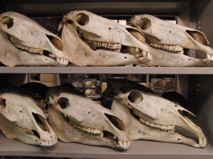 Welcome at the Archaeozoology website of the Groningen Institute of Archaeology (GIA).
The archaeozoology unit of the GIA is one of the oldest centers of research and teaching in all aspects of the past pertaining to interactions between humans and animals. Facilities began to take shape already in the 20's and formed a core component of the Groninger Biologisch-Archeologisch Insituut (BAI). In the 70s archaeozoology at the BAI became instrumental in establishing global research agendas in archaeozoology through its leadership in teaching and research. The reference and research collections expanded rapidly, serving archaeozoological research in the Netherlands and abroad.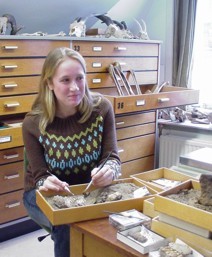 Today, in-depth BA-level teaching in archaeozoology is an essential feature of the archaeology education in Groningen. Zooarchaeology is a popular pathway in the MA, Research MA, and postgraduate courses offered at the GIA. The reference collections hold more than 5000 faunal specimens from about 900 species mainly from Europe and the Middle East. The unit operates its own maceration lab. Research continues to focus on the Holocene with a cross-regional approach that spans from the northern Netherlands to Lebanon. Subject areas include (but are not limited to) the spread of domestic and wild animals and animal by-products via acculturation processes, human exploitation pressure on coastal resources, archaeozoology of the terpen, transhumance in urban landscapes and methodological explorations with comparative osteology and isotope analysis.
The archaeozoology unit has organized the 12th Archaeozoology of Southwest Asia Meeting in Groningen between 10 and 14 June 2015.
The archaeozoology lab provides consultancy and facilities to third parties. Those who are interested can consult the reference collections for their own research. You can also consult the online database of the zooarchaeological collection.
For further information about the reference collections or to make an appointment, please contact Christian Küchelmann (H.C.Kuchelmann@rug.nl) or Esther Scheele (E.E.Scheele@rug.nl), tel. +31(0)50-3636731).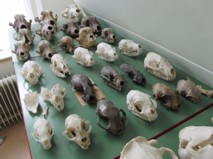 The GIA offers BA-level courses in archaeozoology during the spring semester (7 weeks, February-March), and graduate and postgraduate tutorials and advising throughout the year. Research internships in Groningen and abroad are available for Dutch and foreign students. Language of instruction is English.
For further information on the teaching and research activities of the unit, please contact Dr. C. (Canan) Çakırlar ( c .cakirlar@rug.nl ; tel: 0031-50-3636732).
| | |
| --- | --- |
| Laatst gewijzigd: | 21 november 2017 16:00 |