About research
What brings about social wellbeing? That is the central question in research of the department of Sociology of the University of Groningen. Scientific questions and societal problems are disentangled by means of theory-guided empirical research.
RUG-student wint KHMW Jan Brouwer Scriptieprijs 2023
Hannah Dietzenbacher ontving de prijs voor haar scriptie Criminal Network Disruption: A simulation study on the effectiveness of law enforcement intervention strategies.
Door middel van een sociale netwerk simulatie onderzocht Hannah hoe je synthetische drugsnetwerken zo effectief mogelijk kunt ontmantelen en ontwrichten. Ze heeft als socioloog gewerkt met unieke datasets van de Politie Noord-Nederland om zo een synthetisch drugsnetwerk en hun organisatieproces in kaart te brengen. De actoren met de meest waardevolle connecties – dat wil zeggen, die verschillende groepen met elkaar verbinden – blijken cruciaal. Worden die uit het netwerk gehaald, dan kan dat leiden tot een effectieve ontwrichting en ontmanteling van de drugsnetwerken.
Hannah heeft zelf de code voor de simulatie – waarin telkens één actor uit de verzameling werd gehaald, totdat het netwerk was ontmanteld – gebouwd. Ze merkte tijdens haar studie dat ze programmeren leuk vond en wilde dit graag in haar scriptie betrekken. Gelukkig trof ze een hulpvaardige scriptiebegeleider, dr. Gert Stulp, die onder andere is opgeleid in Artificial Intelligence.
Laudatio door jurylid Prof. dr. T.W.G. (Tom) van der Meer, hoogleraar politicologie, in het bijzonder legitimiteit, ongelijkheid en burgerschap Universiteit van Amsterdam.
Meer informatie over de Jan Brouwer Scriptieprijzen hier.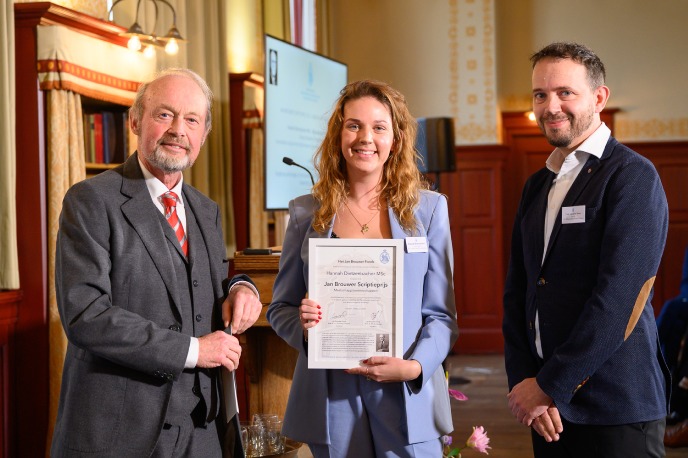 | | |
| --- | --- |
| Last modified: | 14 February 2023 2.06 p.m. |