CRCPD's public lecture by Prof. John Paul Lederach – 'Mobilizing the moral imagination'
| | |
| --- | --- |
| Date: | 30 November 2016 |
| Author: | Religion Factor |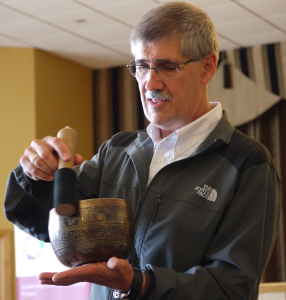 Tomorrow, 1st of December, Professor John Paul Lederach will, in a lecture organised by The Centre of Religion and Conflict in the Public Domain, talk about 'Mobilizing the moral imagination: Religion in the landscape of fragmentation'. Join us for the lecture and the discussion with great panel of expert respondents: dr. Michelle Parlevliet, specialist in Conflict Resolution and Governance at UVA, Fulco van Deventer, director at the Human Security Collective in the Hague and Simone Filippini, previous CEO and current advisor at Cordaid.
Our global and local communities face sharply competing narratives increasingly infused with profound religious views about human purpose, relationships, and the common good. In the wake of recent attacks in France, Germany, Nigeria, USA and many other places around the world, it is more relevant now than ever to explore how our moral imagination can contribute to stabilising the fragmented landscape. The challenge of this century emerges around whether in the midst of rich diversity and polarizing fragmentation our moral imagination will justify fear and violence, or lead into re-humanization necessary to protect human dignity and nurture flourishing communities .
Prof. John Paul Lederach is a professor of International Peacebuilding, at the University of Notre Dame. He is widely known for his pioneering work in conflict transformation, Lederach has helped design and conduct conflict transformation training programs in 25 countries across five continents. Lederach is the author of 22 books, including When Blood and Bones Cry Out: Journeys Through the Soundscape of Healing and Reconciliation (University of Queensland Press, 2010), The Moral Imagination: The Art and Soul of Building Peace (Oxford University Press, 2005), The Journey Toward Reconciliation (Herald Press, 1999), Building Peace: Sustainable Reconciliation in Divided Societies (USIP, 1997), and Preparing for Peace: Confliction Transformation Across Cultures (Syracuse University Press, 1995).
For some background and examples of Lederach's work see this link for an article on he wrote on peacebuilding in Somalia and click herefor a video lecture where Lederach explores the evolution of the field from 'simple' conflict resolution to state-of-the-art strategic peacebuilding.
We hope to see you all tomorrow at 20:00 in the Nutshuis, Riviervismarkt 5, Den Haag. For more information and registration, please send an e-mail to crcpd.ggw@rug.nl.
Tags:
globalization
,
uncategorized
,
fragmentation
,
global community
,
christianity
,
peacebuilding
,
conflict
,
local
,
moral imagination
,
alternatives
,
polarization
,
conflict resolution
,
religion
Comments