Religion, Conflict and Globalisation
| | |
| --- | --- |
| Date: | 26 November 2012 |
| Author: | Tyler Tully |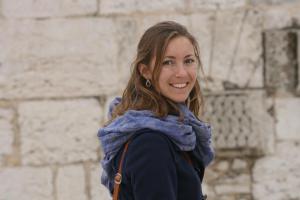 This week, The Religion Factor will offer some attention to the Master Programs in Religious Studies that are offered at our faculty. After Eemera Matthews' reflection on the Concealed Knowledge programme, today Carmen Fleurke addresses the Religion, Conflict and Globalisation track.
Na het afronden van mijn bachelor Godsdienstwetenschap ben ik twee maanden geleden ingestroomd in het Masterprogramma Religion, Conflict and Globalisation. Toen ik hoorde dat dit programma werd opgezet was ik direct bijzonder geïnteresseerd. Ik was destijds al langer op zoek naar een master waarin deze onderwerpen besproken werden, maar heb dit bij geen enkele andere universiteit kunnen vinden. Voor mij was de keuze dus snel gemaakt.
Nadat ik stage had gelopen op de Nederlandse Ambassade in Tel Aviv, Israël, was ik nog geïnteresseerder dan voorheen in de verhoudingen die bestaan tussen religie en politiek. Wanneer wordt het gebruik maken van religieuze argumenten in politiek gelegitimeerd en wat behelst religieus extremisme? Hoe kunnen conflicten die religieus georiënteerd zijn verklaard worden en (hoe) vormt religie (een gemeenschappelijke) identiteit? Vragen als deze hoopte ik te gaan onderzoeken binnen het masterprogramma.
Van de drie aangeboden vakken zijn er reeds twee begonnen, namelijk Fundamentalism and Religious Violence en Global Dynamics and Local Religious Systems. Bij het eerste vak wordt het gebruik van de term fundamentalisme sterk aan de kaak gesteld. Wat zijn de stereotypes die over fundamentalisten bestaan en wanneer wordt een religie eigenlijk als fundamentalistisch bestempeld? Het tweede vak wordt binnen twee maanden afgesloten, waardoor het behoorlijk arbeidsintensief is. Hierbinnen wordt afgevraagd hoe lokale tradities door globalisering beïnvloed worden en hoe kosmologieën gevormd worden. De vakken bieden informatie aan vanuit verschillende wetenschapsgebieden, zoals bijvoorbeeld psychologische, antropologisceh of historische benaderingen. Het vak Migration, Culture, and Religious Identity zal in het tweede semester van start gaan.
Ik vind de opzet van de colleges erg prettig. In een groep van ongeveer tien medestudenten worden relevante onderwerpen besproken, waarbij niet geschroomd wordt kritisch te zijn of vragen te stellen. De colleges duren ongeveer drie uur en zijn bijzonder interactief. Vanwege het feit dat naast mij slechts één medestudent van het masterprogramma een religiewetenschappelijke achtergrond heeft, worden de discussies gevoerd vanuit diverse perspectieven. Wat naar mijn mening ook toegevoegde waarde heeft is het gegeven dat ook een aantal buitenlandse studenten aan het programma participeren. Door onze verschillende achtergronden blijken we vaak anders naar situaties en processen te kijken.
Naast het volgen van vakken ben ik tevens begonnen met het oriënteren op een onderwerp voor mijn masterscriptie. Om hierin te begeleiden worden een aantal thesis seminars georganiseerd. Ik vind het altijd leuk om te horen waar mijn medestudenten zich in verdiepen en vind het opvallend hoe sterk de onderwerpen uiteen lopen! Geen scriptieonderwerp is met elkaar te vergelijken, waardoor je als student vrij bent je in een onderwerp naar eigen interesse te specialiseren.
Na twee maanden geparticipeerd te hebben in het masterprogramma Religion, Conflict and Globalisation heb ik al veel indrukken opgedaan. Ik ben benieuwd wat de rest van het programma nog gaat bieden!
Carmen Fleurke is a student of the master programme Religion, Conflict and Globalisation at the faculty of Theology and Religious Studies in Groningen.
Comments