Het nieuwe vasten: 40 dagen zonder vlees
| | |
| --- | --- |
| Date: | 13 February 2013 |
| Author: | Maria Vliek |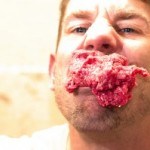 Vandaag begint officieel de Vastentijd, de periode van 40 dagen voor Pasen waarin christenen het lijden van Jezus Christus herdenken. Het is een sobere periode, waarin veel christenen vasten: ze eten geen snoep en andere lekkernijen of eten minder. Maar de vastentijd krijgt tegenwoordig een andere, meer seculiere invulling. Het nieuwe vasten is ecologisch vasten. Het van oorsprong Vlaamse initiatief Dagen Zonder Vlees (DZV) krijgt in 2013 ook Nederlandse navolging. Verschillende bekende Nederlanders en Belgen eten de komende 40 dagen geen of minder vlees en vis.
DZV ontstond 3 jaar geleden in België na een facebookactie. De editie van dit jaar trekt de nodige aandacht: 8400 mensen hebben al toegezegd mee te doen, en de organisatie hoopt dat er in totaal 15.000 mensen mee gaan doen. Ook BN'ers en BB'ers vasten mee, waaronder schrijfster Paulien Cornelisse, komiek Philippe Geubels, en caberetiers Youp Van 't Hek en Wim Helsen.
Deelnemers van de actie beloven de komende 40 dagen minder of geen vlees te eten. Een teller op de website van DZV houdt bij hoe deze actie de impact op het milieu vermindert. Volgens de organisatie vermindert een deelnemer voor elke dag dat hij geen vlees eet, zijn ecologische voetafdruk met elf vierkante meter. Hij bespaart dagelijks ook de hoeveelheid water van tien baden en de broeikasgassen van een vijftien kilometer durende autorit.
De Belgische krant De Standaard wijdt een lang artikel aan het initiatief. Volgens een geïnterviewde trendwatcher, Tom Palmaerts van Trendwolves, past het nieuwe vasten bij de jongeren van nu, die veel belang hechten aan oude en nieuwe waarden: "Ze hechten veel meer belang aan waarden als gezin of zelfs monogamie", aldus Palmaerts. "Daarom begrijp ik wel waarom ze het aan de vasten koppelen, het maakt het betekenisvoller. Als ze weten wat het opbrengt, heeft het zin, hebben ze het gevoel dat ze iets teweeg te brengen. In onze samenleving zorgt dat ecologische besef voor een groepsgevoel, zoals religie dat ook deed."
Volgens initiatiefneemster Alexia Leysen is de actie overigens niet religieus geïnspireerd maar "leunt" het wel tegen de vastenperiode aan: "Het vormt vooral een goed kader. Je leeft natuurlijk wel soberder, denkt na over hoe je eet en leeft. En je hebt een goed gevoel achteraf, omdat je iets doet voor jezelf en anderen. In die zin leunt het dus wel aan bij de vastenperiode en is het wel zingevend."
Comments