Faith and the Asylum Crisis: The role of religion in responding to displacement
| | |
| --- | --- |
| Date: | 17 November 2014 |
| Author: | Religion Factor |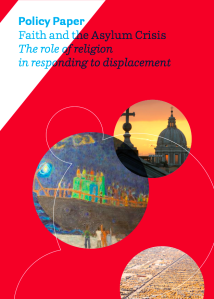 Iraq, Syria, Afghanistan, Somalia, Sudan, the DRC. In each of these contexts, and numerous others, complex dynamics around politics, resources, religion and power are contributing to the creation of a global crisis of displacement of unprecedented scale, with a record number of 51.2 million people displaced in 2013.[1] Dominant state-centric modes of asylum and protection are experiencing widespread challenges. In industrialized, predominantly Western countries, governments of both left and right have introduced increasingly strict asylum policies in an effort to deter asylum seekers. At the same time, the causes for people to flee and seek asylum are becoming more varied. These dynamics are contributing to a breakdown in asylum and refugee protection. This dilemma has become particularly acute in a global context where individuals are still overwhelmingly only able to access their rights through membership of a state.
Amid this breakdown, religious actors have emerged as major providers of services for displaced persons,[2] as well as significant campaigners for alternative modes of protection and belonging. Persecution on the basis of religion is often one of the factors leading people to seek protection, and can be a cause of insecurity even during their residence in supposedly safe refugee camps. Yet faith plays a significant role in the way people understand and respond to experiences of displacement and make sense of what is happening to them. It can also be a powerful motivating factor for the decision to seek asylum, as well as the decision to provide support for displaced persons. Faith-based groups are an increasingly important part of asylum and protection mechanisms. Their activities draw on rich traditions and histories of providing sanctuary and asylum to foreigners, strangers and outcasts. As such, it is increasingly difficult to adequately understand and respond to the problem of displacement without taking into account the complex role of faith, spirituality and religion. It has never been more crucial for scholars, policymakers and practitioners to think creatively about how to deal with the problem of displacement and to engage more deeply and reflectively with alternative perspectives across different cultures, political views, religious and secular.
The Centre for Religion, Conflict and the Public Domain (CRCPD) at the University of Groningen, together with the School of Politics and International Relations at the University of Kent and the Institute for the Study of International Migration at Georgetown University, Washington DC, earlier this year organised two workshops directly addressing these issues. The workshops, funded by the British Council USA Bridging Voices Program, brought together experts from across academia, policy and practice to discuss what the key issues are facing national and global protection mechanisms, the role of religion and religious actors and possible future responses to this pressing global problem. On 19 November 2014, at an event at the European Parliament hosted by Dutch MEP Dennis de Jong and organised by Sustainable Society, we will launch a policy briefing paper that outlines the key findings and recommendations of these two workshops. Key amongst the 19 recommendations are that religion and spirituality should be considered as aspects of human experience that also require protection in every response to mass forced displacement and incorporated in the global protection regime; that religious worldviews can contribute to different understandings and different realities regarding what "persecution" and "protection" mean; that all actors involved in protection and displacement should ensure sensitivity to a wide variety of understandings of what "religion" and "faith" are; that religious language and discourse should be incorporated more explicitly into discussions on policy and practice; and that the voices and opinions of asylum seekers, refugees and displaced persons themselves should be taken into greater consideration.
We welcome anyone concerned about these issues to join us in Brussels to discuss the paper and its recommendations. For more information, visit https://www.facebook.com/events/1586951341532838/
To register for the event, please visit https://ugroningenbss.qualtrics.com/SE/?SID=SV_bmk5ieKw2vOBulv
The briefing paper will also be available in hard and soft copies after 19 November. If you can't make to Brussels, we will also be holding a webinar on 4 December, with some of the panelists from the launch, where we will discuss the paper and its recommendations. For further details contact crcpd.ggw rug.nl
Erin Wilson is the Director of the Centre for Religion, Conflict and the Public Domain, Faculty of Theology and Religious Studies, University of Groningen
This post was originally published at http://www.rug.nl/research/sustainable-society/column/2014/
[1] UNHCR. 2014. Global Trends Report 2013: War's Human Cost, pp2, 15. Available at http://unhcr.org/trends2013/ Accessed 23 September 2014
[2] Whilst acknowledging the vast range of legal categories of displacement – refugee, asylum seeker, internally displaced person, stateless person, persons in refugee-like situations – we use the term "displaced persons" throughout this briefing paper to encompass all such categories. This is in part an effort at simplification, but also because such categories form part of the problems that we highlight in the briefing paper.
Comments