Exchange Programme
Centre for Canadian Studies
Exchange Programme
Application Deadline 2021-2022: December 22, 2020
Who?
If you are a full-time BA student at the RUG and have successfully completed the first 60 credits in your degree programme (your propedeuse) by the time you leave for Canada, you are eligible to apply to go on exchange in Canada. Please keep in mind that if your department has other/stricter policies, those take precedence. You must, in all cases, be cleared by your department's Exam Board in order to study abroad in Canada. If you've been selected, it's also a good idea to keep in touch with your academic advisor when choosing your courses, to ensure that you only take classes that your Exam Board will recognize.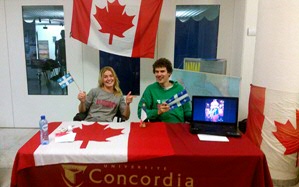 Where?
Keep in mind that you can only submit our application form once, so choose wisely.
How?
Students from all other faculties (NOT Law, FEB, BSS) can apply via the link below. Please make sure you've scanned the following documents. You'll need to upload these when you fill in your application form:
A copy of your passport or ID
Your letter of motivation (no longer than 600 words; in English if you're applying to Queen's, in French if you're applying to Laval/Sherbrooke)
Your CV
A copy of your official transcript of all your completed grades (this needs to be in English, and can be requested at your Faculty's Office of Student Affairs)
Only required for Concordia applicants: A copy of your results of one of the following English proficiency tests:

TOEFL (ibt 90; paper 577)
IELTS 7
MELAB 85 (with at least a 3 for speaking)
CAEL 70
Cambridge Certificate (CAE) A
International Baccalaureate: The course Group 1 English (Language A: Literature, Language A: Language and literature, or literature and performance) (Higher or Standard Level).
What's next?
The last step in our selection procedure is a short interview. Selection interviews will be conducted with selected students who have applied via this website in January 2021, so keep an eye on your email.
Our initial selection is based on the quality of your letter of motivation and your grades. If you've passed this round, the Centre will invite you to talk more about your motivation to go on exchange in Canada, and in particular, why you want to attend the university you chose. Interviews are about 15 minutes long and you can expect the Centre's Director and Exchange Coordinator to be present, as well as your academic advisor. We make our final decisions based on these interviews.
| | |
| --- | --- |
| Last modified: | 23 November 2020 08.57 a.m. |