Law on Energy and Sustainability
The research programme Law on Energy and Sustainability (LES) focuses on energy law and sustainability law as two separate research themes that also come together to address the legal dimension of the process of energy transition in which climate considerations plays an important role. The programme thus brings together research within the Faculty of Law of two legal disciplines, which jointly are relevant for this important societal challenge. LES involves researchers from a broad range of legal disciplines and includes both international, European and national levels, as well as the interplay between them. The programme cooperates with non-legal disciplines to address related social, economic and technical aspects of the transition towards a sustainable society .
Research focus
The LES research programme has three goals. First, it aims at establishing how law can ensure a secure, clean and affordable energy supply, that addresses the societal need to engage in sustainable, fair, low-carbon and competitive energy production, consumption and supply. Second, it focuses on how law can foster an equitable and efficient balance between the 'three Ps' (people, profit and planet) of the sustainability paradigm, in which burdens are fairly distributed within (the global) society, and across generations. Third, by combining the energy and sustainability theme, it aims at conducting cutting-edge research in the field of energy transition towards a low-carbon economy.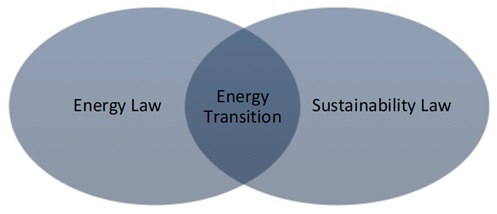 Energy law
Energy law research involves the entire energy sector, 'from well head to burner tip. It includes all legislation and regulation applying to the production, transmission and supply of energy. The governance of the energy chain has been subject to important changes over the last decades due to market liberalisation and concerns as regards to supply security and climate change. The energy law research thus focuses on three perspectives: an economic perspective (including the level playing field in the energy market and market liberalisation), an environmental perspective(relating to the use of fossil and renewable energy sources to combat climate change) and a social perspective (focusing on security and reliability of supply, and broader questions of human rights impacts of energy production and supply). The Groningen Centre of Energy Law (established in 2007) has an excellent reputation and has played a key role in developing and promoting research in these key elements of energy law.
Sustainability law
Sustainability law is closely related to environmental law, climate law and the concept of sustainable development that rests on the same three pillars as mentioned above: an environmental, an economic and a social pillar. Sustainability law has emerged as a key concept through which societal challenges are addressed in policy-making, regulation and governance at the international, European, national, and local level. The research programme addresses how law can stimulate and foster an equitable and efficient balance between people, profit and planet, in which burdens are fairly distributed, today as well as tomorrow. The cross-disciplinary legal research within the programme focuses on the legal instruments and challenges to mitigate and adapt to climate change, to protect the environment against detrimental human activities, to preserve and improve nature and biodiversity, to use natural resources sustainably, to strive for a circular economy and to achieve the Sustainable Development Goals (SDG's) set by the United Nations. The LES research programme includes investigating the legal possibilities of implementing the concepts of sustainable development, public participation, an ecosystem (services) approach, a programmatic approach to achieve environmental goals and a human rights approach to environmental issues.
Energy transition
Energy law and sustainability law meet in the process of energy transition, which is the research programme's main focal point and therefore an important core theme. Global warming is regarded as one of the most important challenges facing humankind and has led to the recognition that an energy transition is inevitable. Solving this problem requires climate law to incentivise an energy transition away from fossil fuels such as oil, natural gas, lignite, and coal (decarbonisation of the energy system, also using carbon capture and storage) towards sustainable energy sources (such as the renewable energy sources wind, hydropower, solar power, geothermal, and marine energy). All of these changes have an impact on the energy (transport) networks and the way in which they are regulated. Energy transition also involves the need to increase energy efficiency and energy conservation. Sustainable energy production and consumption within the energy sector is of great importance in light of the transition towards a sustainable society. This also indicates that there is an inherent overlap and interaction between energy law and sustainability law.
Research objectives
The prime objective with the LES research programme is to contribute to the ongoing societal challenges in investigating both energy law and sustainability law as separate research focus areas as well as the legal dimension of the energy transition. LES includes all levels of legal analysis: domestic law (both at local and national level), regional law (primarily EU law) and international law. The programme requires research into different areas of law, such as private law, public law, criminal law and tax law. The legal developments and/or legal issues can be regarded separately and on their own merits, but where possible and desirable they are investigated in combination.
The second objective is to engage in interdisciplinary, multidisciplinary and cross-disciplinary projects that are of scientific relevance, have a high societal impact and are commissioned by or undertaken in collaboration with societal partners.
As a third objective the programme aims to strengthen the link between research and academic teaching, inter alia in the Master programmes 'Energy and Climate Law' and the North Sea Energy Law Programme (joint degree with the universities of Aberdeen, Copenhagen and Oslo), as well as other Master programmes in the field of public (international) law and European Union law in Groningen.
As a consequence of the objectives in the LES research programme, we can subdivide some of our current and ongoing research themes in the following way:
Energy Law
Energy market liberalisation in the EU: (i) regulating and re-regulating the network-bound energy sector (e.g. unbundling concepts) and (ii) the Clean Energy Package;

Upstream oil and gas law: (i) oil and gas licensing, (ii) legal changes resulting from the earthquakes following the production from the Groningen gas field , (iii) developing shale gas in the EU, and (iv) offshore decommissioning and reuse.
Sustainability Law
What legal instruments of climate law and environmental law and what kind of governance can effectively and efficiently contribute to stimulating and fostering an equitable and efficient balance between people, profit and planet, in which economic, environmental and social burdens are fairly distributed within (the global) society?

Legal instruments, rights and governance for (a) protecting all (supporting, provisioning, regulating and cultural) ecosystem services, (b) stimulating circular economy and waste reduction and treatment (c) striving for clean air, water and soil and a better quality of nature (Environmental law)?

Legal instruments, rights and governance to combat, to mitigate the effects of and to adapt to climate change (Climate law).

Sustainability law includes questions relating to access to information, participation in environmental decision-making, (environmental) liability and access to justice in environmental law.
Energy Transition
Legal instruments for greenhouse gas emission reduction as part of climate law, including: (i) emissions trading, (ii) command and control instruments and (iii) carbon capture and storage;

The legal instruments and the role of access to information, public participation and access to justice in environmental decision-making to obtain sustainability goals.

Developing a new regulatory framework for electricity grids: (i) smart grids and (ii) the offshore electricity grid, without endangering the environmental goals regarding nature and water;

Regulatory challenges in the energy sector: (i) the introduction and use of renewables, such as (offshore) wind energy, solar energy and biogas, (ii) new challenges for natural gas production and subsoil uses, without endangering the environmental goals regarding nature, water and soil, and (iii) the decommissioning or phasing-out of fossil and fossil fuels infrastructures as part of the energy transition;

Human rights and (renewable) energy: (i) access to modern, reliable and affordable energy services for all, including combatting energy poverty (ii) community participation in energy projects, and (iii) energy justice and just energy transition;

Analysing how law enables and/or constrains energy systems integration through new technologies such as energy storage and power-to-gas

Energy investments in renewable energy sources: (i) investment protection in the North Sea and (ii) investment protection under the Energy Charter Treaty.
Programme ambitions
The ambitions of the programme are threefold: 1) to continue and expand the research reputation of the faculty in the field of both energy law and sustainability law as well as the law governing the energy transition, including climate law; 2) to attract external funding in these fields; 3) to enlarge the group of researchers engaged in this research programme. The LES research programme aims to have a significant societal impact and reinforce its high international and national visibility via multiple communication methods such as conferences and seminars where the research outcome can be presented, publications in high-ranked international, peer-reviewed journals and monographs, and dissemination of the research findings through blogs, opinions published in newspapers, etc.
| | |
| --- | --- |
| Last modified: | 30 January 2023 1.15 p.m. |