Energierecht in de praktijk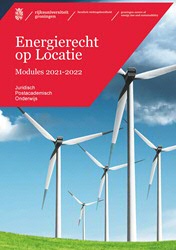 'Energierecht in de praktijk' is een uitgebreide postacademische cursus van het Groningen Centre of Energy Law and Sustainability (GCELS) en het Juridisch Postacademisch Onderwijs (PAO) van de Rijksuniversiteit Groningen.
De cursus richt zich op de energiesector in Nederland in de Europese context en bestaat uit vier afzonderlijke modules waarin belangrijke juridische aspecten behandeld worden door zowel academici als deskundigen uit het werkveld.
Hebt u interesse in de Leergang Energierecht? Wilt u op de hoogte blijven van volgende edities van de leergang Energierecht? Meld u dan aan voor de interesselijst.
Voor wie?
De cursus is bedoeld voor
eenieder die zich voor zijn/haar persoonlijke ontwikkeling of professionalisering wil bekwamen in het energierecht
juristen
diegenen die zich bezighouden met de regulering van de energiesector en baat hebben bij een verbreding en/of verdieping van juridische aspecten
Hoe ziet de leergang eruit?
Na een inleidende module volgt de structuur van de cursus het 'energie trilemma', waarbij relevante juridische aspecten op de agenda staan betreffende
voorzieningszekerheid en infrastructuur
betaalbaarheid en markten
emissiereductie en nieuwe energiebronnen en technologieën
Deze cursus is uniek omdat het niet alleen theoretische kennis wil bieden, maar de cursisten ook kennis wil laten maken met de praktische aspecten van de stof die wordt behandeld. Daarom zullen de onderwerpen zowel van docenten vanuit academisch perspectief als vanuit de praktijk worden gepresenteerd en besproken.
De onderwijsmethode zal een gecombineerde methode volgen, wat betekent dat colleges als opgenomen materiaal voorafgaand aan de bijeenkomsten beschikbaar zijn en dat colleges ter plaatse worden gegeven. Per module zullen de totale lesuren (opgenomen en ter plaatse) ongeveer 6-7 uur bedragen. Daarnaast wordt de deelnemers gevraagd zich voor te bereiden door het lezen van geselecteerde teksten en het maken van (groeps-)opdrachten (6-7 uur).
• Inleiding
• Voorzieningszekerheid en infrastructuur
• Betaalbaarheid en markten
• Emissiereductie en nieuwe energiebronnen en technologieën
De volgende cursusronde start aan het begin van 2024. Exacte data moeten nog worden vastgesteld, maar de planning is als volgt: inleidende module eind januari, module 2 eind maart/begin april, module 3 eind april/begin mei en module 4 eind juni/begin juli.
Hoofddocent is Prof. mr. dr. L. Squintani.
Meer informatie
Disclaimer: Alle wijzigingen voorbehouden. Programma en docenten kunnen aan verandering onderhevig zijn, hier kunnen geen rechten aan worden ontleend door de deelnemers van het programma.
Algemene voorwaarden en annuleringsregeling zijn te vinden op de website van Juridisch PAO.
U kunt zich via dit formulier aanmelden voor de cursus.
U kunt ook contact opnemen met:
Universiteit Groningen/Faculteit Rechtsgeleerdheid/Groningen Centre of Energy Law and Sustainability

Postbus 716

9700 AS Groningen

The Netherlands

T:

@:

W3:

+31 50 363 2985 (muv maandag en vrijdag)

gcels rug.nl

Universiteit Groningen/Faculteit Rechtsgeleerdheid/Juridisch Postacademisch onderwijs Groningen

@:

W3:

pao rug.nl
Aanmelden voor een module graag uiterlijk twee weken voor aanvang. Mocht deze termijn gepasseerd zijn, neemt u dan contact op via bovenstaande adressen voor informatie over de mogelijkheden voor eventuele deelname.
| | |
| --- | --- |
| Laatst gewijzigd: | 17 mei 2023 11:10 |