Nikee van der Gouw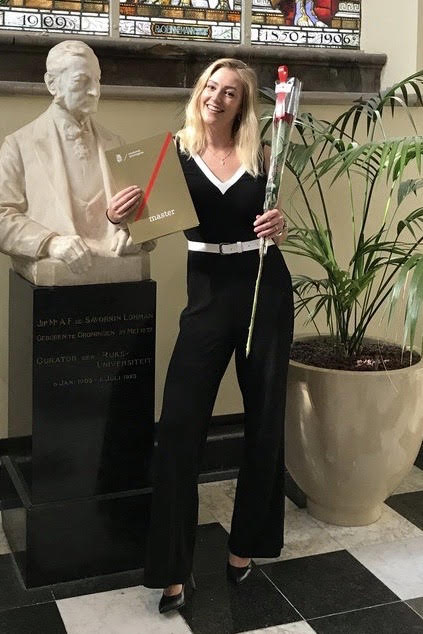 After concluding my LLB with a specialisation in International and European Law at the University of Groningen, it felt like the logical thing to do: complete my masters degree at the University of Groningen as well. Well established and offering the best programs in Europe, Groningen has an outstanding reputation in its LLM programs. A friend of mine once compared studying law here as baking a beautiful cake, whereby it would be nothing but illogical to do a masters at a different university in the Netherlands. Thus, I decided I needed a tasty cherry on top of my cake and completed the Public International Law LLM and the International Human Rights Law LLM in Groningen.
Studying in Groningen is a phase in my life I will never forget. The city, the outstanding professors, and the interesting curriculum of the programs developed me as a person and helped me kickstart my career. Lectures were interactive and very practical, professors were always ready to discuss topics with you and provide guidance and feedback, even after graduating.
Not only is the Faculty of Law described as one of the best in the Netherlands, the city itself also offers an amazing atmosphere. The city has everything a big city has to offer, whilst providing a safe and cozy environment as if you live in a small town with everything around the corner. The bars, shops, and party's are amazing for students and international students are plenty.
The Faculty of Law has prepared me with high-level education and an outstanding network of professors that are willing to help with your career ambitions. I have become a globally aware person due to the Global & Intercultural Engagement Distinction in which I developed myself as a person on various levels. All the experiences in education, culturally and in self-awareness, have contributed to my goals for the future. Confident that I have a great foundation to fall back on, I will always remember my time at the University of Groningen fondly.
Nikee van der Gouw, Netherlands, LLM in Public International Law and LLM in International Human Rights Law
| | |
| --- | --- |
| Last modified: | 26 June 2020 3.38 p.m. |