Student for a Day Religious Studies
| | |
| --- | --- |
| When: | Th 07-03-2024 11:00 - 16:00 |
| Where: | Faculty of Religion, Culture and Society (Oude Boteringestraat 38, Groningen) |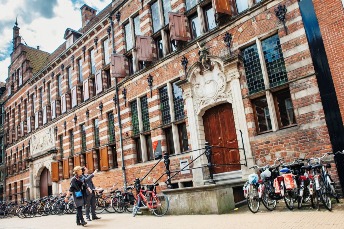 Are you considering studying Religious Studies ? Do you want to get a better picture of the study programme? Come and visit us at Student for a Day!
Religion is an important factor in many national and international social themes. Sometimes this is obvious, especially when we read news about religious radicalization. Other times, it is much less obvious and we are not as aware of the influence religion has in social phenomena, such as in cases of sexual health or climate change.
Within the Religious Studies bachelor programme, you will examine how we live and the prominent role religion plays in people's lives. You will study people's behaviour, thinking, and learning. In class, you will not debate to what extent religion is 'true', but rather, how religion affects people's lives and what people do with it.
Student for a Day
During the Student for a Day event, you attend sample lectures of courses offered within the programme, so that you can find out what to expect from the content of Religious Studies. The day also gives you an opportunity to get a taste of student life at the faculty. Of course, there is plenty of time throughout the day to ask students and teachers whatever you want to know about Religious Studies. The Student for a Day event is free, and including lunch.
| Sample lectures | Teachers |
| --- | --- |
| Sociology of Religion | |
| Religion in South Asia | |
| Religion and Philosophy | |
In a nutshel
| | |
| --- | --- |
| When: | Thursday March 7th, 2024, 11:00-16:00 |
| Where: | Faculty of Religion, Culture and Society (Oude Boteringestraat 38, Groningen) |
| Why: | To find out whether studying Religious Studies suits you. |
| Contact: | Dik Kootstra: +316 2969 8049 or: communications.rcs rug.nl |