Panel discussion: How "Modern" are We? Religion, Secularism, and Multiple Modernities in Europe
| | |
| --- | --- |
| When: | Th 12-06-2014 14:00 - 16:00 |
| Where: | Zittingzaal, Faculty of Theology and Religious Studies, Oude Boteringestraat 38, Groningen |
Join us on 12 June 2014 to discuss what the return of religion to public life means for secular modern Europe with one of the world's leading scholars on the return of religion to the public sphere, Professor José Casanova.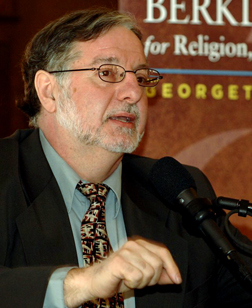 Dr. Erin Wilson(director of the Centre for Religion, Conflict and Globalisation) will moderate the discussion and give a brief introduction to the theme; then Dr. Kim Knibbe (sociology), Dr. Christoph Jedan (philosophy), Prof. Herman Paul (secularization studies), and Prof. Kocku von Stuckrad (religious studies) give very brief statements (7 minutes), addressing one aspect of the overall question; subsequently, Prof. Casanova will be invited to respond to these statements, after which the discussion will be opened to responses from the floor.
Religion in the public sphere
The idea of being modern has long been associated, at least in Europe, with the gradual separation of religion from public life, its privatization, decline, and eventual disappearance. Yet since the end of the Cold War, it has become increasingly accepted that religion is not disappearing or declining and may even be deprivatizing and re-entering the public sphere. These events are occurring all over the 'Western' world, not limited to the United States, which has arguably always had elements of the religious in its public sphere. Such developments speak to the very essence of European identity, which has for a long time been considered to be the pinnacle of secularization and modernization. What does the return of religion to public life mean for secular modern Europe? Does being modern require being secular? Is religion really as antithetical to modernization as we have assumed it to be? What does it even mean to be 'modern,' 'secular,' 'Enlightened,' and 'religious'?
José Casanova
On June 13th José Casanova (1951), Georgetown University (Washington, DC), Department of Sociology, Berkley Center for Religion, Peace & World Affairs, will be awarded with an honorary doctorate as proposed by the Faculty of Theology and Religious Studies. José Casanova is one of the world's most prominent scholars in the sociology of religion, with a special interest in the contemporary period and the relation between religion, secularism, and processes of globalization. Because of this honorary doctorate, the Faculty of Theology and Religious Studies organises a special programme with professor Casanova for students, colleagues in Religious Studies and others who are interested. This panel discussion is part of this programma, as well as his public lecture on June 11th.
Free admission