Avanced Instrumentation & Big Data
On this page you may find examples of successful projects developed in the area of Advanced Instrumentation & Big Data by Engineering researchers at the University of Groningen and public and private partners. The list will be constantly updated with new promising initiatives.
Advanced instrumentation for radiation physics
The KVI - Center for Advanced Radiation Techniques has a strong tradition in the development, construction, and operation of complex equipment for particle accelerator facilities (ion sources, beam guiding systems, beam diagnostics instrumentation) and detector systems for experiments with particle beams. The scientific and technical staff at the KVI is very experienced in producing and using state-of-the-art systems, based at the centre's facility or at various other places around the world.
The accelerator facility of KVI - CART (AGOR) offers world-wide unique particle beams for a range of applications in medical physics and radiation physics. Under the leadership of Prof. dr. S. Brandenburg we are developing the next generation of radiation techniques for cancer treatment based on accelerated particles. As an example, we cooperate closely with the leading commercial vendor in this field: IBA. Under the leadership of Prof. dr. N. Kalantar-Nayestanaki we design, construct, assemble and test various pieces of very complex hardware which will be used for the detection systems of the new Facility for Anti-proton and Ion Research in Germany (FAIR). Examples are systems to enhance the signal to background ratio for accelerated particles and complex systems for high-energy photon detection.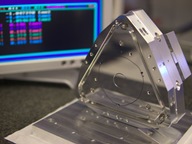 Mirror for the European Extremely Large Telescope (E-ELT)
The group Discrete Technology and Production Automation (Prof. Dr. Bayu Jayawardhana, Prof. Dr. Ir. Jacquelien Scherpen, Prof. Dr. Ir. Ming Cao, from the Engineering and Technology Institute Groningen has been involved in the development of the "chopper" an important component in METIS, the Mid-infrared E-ELT Imager and Spectrograph of the European Extremely Large Telescope . The "chopper," which is the First Dutch contribution to the Telescope, is a small mirror that should be able to move very fast, be able to hold a random position very stable, operate at a temperature of -190 degrees Celsius and in vacuum. The controller design and the performance test program of the mechanism were the result of a collaboration with SRON. Other partners in the project were NOVA, ASTRON, TNO, and JPE.
| | |
| --- | --- |
| Last modified: | 31 January 2019 3.49 p.m. |