Society, Environment, Transportation and Space (SETS)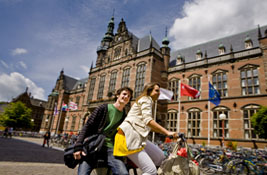 Summer School
"Society, Environment, Transportation and Space: The Dutch Experience" (SETS) is a summer course offered each year in June by the Faculty of Spatial Sciences of the University of Groningen (The Netherlands) in cooperation with the Council on International Educational Exchanges (CIEE). The course is open for students from partner universities of the University of Groningen.
In 2018, the course runs from Sunday, June 3 (arrival date in Groningen) to Friday, June 29, 2018 (departure date from Groningen).
Contents
The aim of the summer course is to develop an understanding of the ways The Netherlands, considered by many as "The Gateway to Europe", deals with economic, environmental and settlement challenges. These challenges are to be placed in the context of increasing levels of globalization, the expected effects of the changing climate on water management and flood protection systems, as well as sustainability concerns related to increasing levels of mobility in general and car usage and ridership in particular – all of which seem to exercise even stronger impacts on the population of one of the most densely populated countries of the world.
At the same time, the course aims to challenge participants to reflect on economic, environmental and planning issues in their home country by means of their understanding of Dutch spatial-economic problems and the Dutch experiences of planning policies implemented to deal with those problems. There are many possible ways to define 'planning' – for example, economic planning (including regional economic development), spatial planning (including housing, settlement planning and transportation planning), and environmental planning (including water management). Also, many possible approaches to the study of planning exist – the approach adopted in this course is problem oriented; planning is thus seen as a problem solving orientation.
It is the goal of the course to study specific examples of Dutch spatial-economic problems and the accompanying problem solving policies in such a way that lessons can be learned and applied to other, analogous situations elsewhere. In the light of the target group for this course, special attention will be devoted to the Dutch history, successes, failures and future challenges of water management (flood protection, water quality), specifically in the light of the expected consequences of rising sea levels and changing annual precipitation distributions for The Netherlands. At present, 23.9% of the Netherlands lies below sea level; these low-lying areas are the home to 60% of the Dutch population, or 10 million people. A second focus will be on intensive land-use planning or 'compact city policy' as a successful instrument to counteract sprawl and enabling very high levels of bicycle participation. An in-depth acquaintance with bicycle infrastructure in the city of Groningen is included in the course program.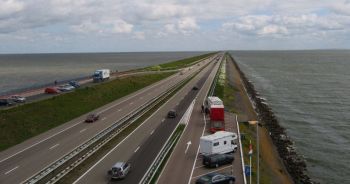 The guiding principle for the course is that the combination of lectures and excursions is a necessary condition to develop an accurate level of understanding – lectures, and reading materials, provide information and knowledge, but this knowledge would remain abstract or 'unplaced' unless it can be related to sites and areas which can be seen and personally experienced. In other words, the combination of 'knowledge' and 'seeing' will be able to produce 'understanding'.
All excursions will be guided and accompanied by the principle teacher for this course, who will also deliver a substantial number of lectures in the course. Other lectures will be delivered by specialized faculty members of the Faculty of Spatial Sciences of the University of Groningen.
Format
The course consists of almost 4 weeks. A series of 12 lectures, almost all scheduled as morning lectures, will be accompanied by a large number of excursions. The dates and entries below are subject to change. The course consists of three separate blocks:
A. Introduction (Sunday June 3 - Monday June 4, 2018). On Sunday, participants arrive in The Netherlands. Typically the arrival will be at Amsterdam Airport Schiphol. The train to Groningen takes 2 hours and 15 minutes, and runs twice an hour. After the settle-in in the dorms in Groningen, a welcome dinner will be offered. Monday is reserved for a Welcome and Acquaintance session at the university, a tour of the university facilities, an introduction lecture and collection of bicycles.
B. The course (Tuesday June 5 - Tuesday June 26, 2018). A total of 12 lectures, 4 tutorials (that aim to support the Group projects, see below), and 11 excursions, evenly distributed over the three weeks. The lectures are on "Spatial Planning", "Population Dynamics", "Cultural Geography: People, Religion and more", "Energy landscapes (Environmental Planning)", "Planning for health", "Rural Areas", "Sustainable transportation and mobility", "Dutch Cities", "Regional policies", "Water Management", "Public Transportation" and "Death and Space ()Planning for graveyards)". The excursions are on/to:
Vitality and liveability in Dutch inner cities: The case of Groningen (walking tour)
Groningen, the compact city (neighbourhoods vs. 'suburbs') (bus excursion)
Regional-economic development: The Blue City project (bus excursion)
Bicycle infrastructure excursion (bicycle excursion)
Waste management: Site visit (bicycle excursion)
Planning a polynuclear city: Randstad Holland and the Green Heart (Amsterdam, The Hague, Rotterdam) (bus excursion)
Sustainability challenges and dilemmas in urban planning (bicycle excursion)
Shared space road design, and Park-and-Rides (bus excursion)
Reconstructing the past? Heritage planning (bus excursion)
Death and space (Graveyard planning) (bicycle excursion followed by walking tour)
Water Management: Living with water in Past, Present and Future (bus excursion)
C. The conclusions (Wednesday June 27 and Thursday June 28, 2018). On these two dates, there will be morning workshops (presenations of group projects) followed by site visits in relation to the group projects in the afternoon. These site visits will be organized and delivered by the groups. In the evening, the course is concluded with a farewell dinner.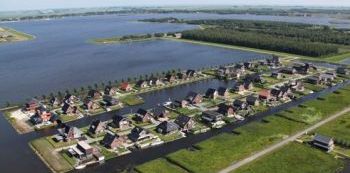 Optional: Workshop "Society-Environment Relations in the Wadden Sea Region"
For a restricted number of participants, there will be the opportunity to attend a workshop delivered by the University of Groningen and the University of Oldenburg (Germany) and the University of Hamburg (Germany) in the city of Hamburg (Germany). There will be student presentations by Dutch and German students on society-environment relations in the Wadden Sea Region. This is the coastal area in the Northern part of the Netherlands as well as the Northwestern part of Germany. The workshop includes an excursion/site visit.
The SETS participants that prefer not to take part in the Hamburg workshop, or can not be selected for the Hamburg workshop, could use the available time (Thursday afternoon June 21 - Sunday June 24) to visit another destination in the Netherlands or in Europe.
Assessment
Course participants are required to conduct a small research project on a topic that will be decided upon with the course teacher. In a team of 3 or 4 persons, each group will make an in-depth investigation of a specific urban, transport, environmental or settlement topic and prepare a powerpoint presentation including topic description and positioning (theoretical framework), data collection description and justification; data analysis and findings. Group project topics may be suggested by participants, or can be chosen from a list of topic options made available at the beginning of the course. The course teacher will assist in finding and selecting sources for the paper. Participants that would rather work on an individual paper/essay can choose to do so.
The last full day of the course will take the form of a workshop, where the participating students will present their group projects (noon session) and take the lead in explanatory site visits (afternoon session)
All elements of this intensive, three week course support one another. Each student is therefore required to attend all lectures and all excursions and site visits. The assessment is based on:
class participation 20%
group project 60%
presentation 20%
Successful completion of the course will result in a certificate. The course is worth 5 European Credits, which for most USA universities translates into 3 credits.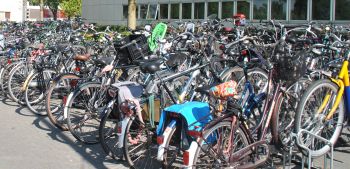 Application procedure
We welcome all students interested in issues in sustainability, environmental planning, sustainable transportation/bicycle usage and infrastructure, urban and regional planning, water management and related disciplines. The course fee is 1950 EURO. Students enrolled at a partner university of the University of Groningen and/or the Faculty of Spatial Sciences receive a 10% discount on the course fee (so the fee for students from partner universities is 1755 EURO). No additional tuition or university fees are charged.
If you are interested in participating in this summer course, please send an e-mail to Paul van Steen, p.j.m.van.steen@rug.nl -- you will then receive more information, including the application form and payment instructions.
The course fee includes housing in an international student house (single room, shared facilities), a good quality used bicycle, all excursions, as well as a number of social events and dinners. Participants should organise their own transfer to Groningen (by plane to Amsterdam Schiphol Airport, by train to the city of Groningen), but we will of course be happy to advise on travel arrangements. Participants will have full access to the University of Groningen's supporting infrastructure for visiting exchange students (library, internet, computer facilities, sports facilities). Participants currently enrolled at a partner university of the University of Groningen do not pay tuition - not to the University of Groningen, not to their home university - to participate in the summer course SETS.
Applications from students from partner universities will be processed on a first come, first served basis until April 1, 2018 (deadline for submitting applications).
More information
For more information, please contact Paul van Steen, the coordinator and principal teacher, at p.j.m.van.steen@rug.nl
| | |
| --- | --- |
| Last modified: | 03 November 2017 3.36 p.m. |