Noord-Nederlandse ondernemers omarmen disruptieve technologieën (Resultaten Noord-Nederlandse Innovatiemonitor 2018)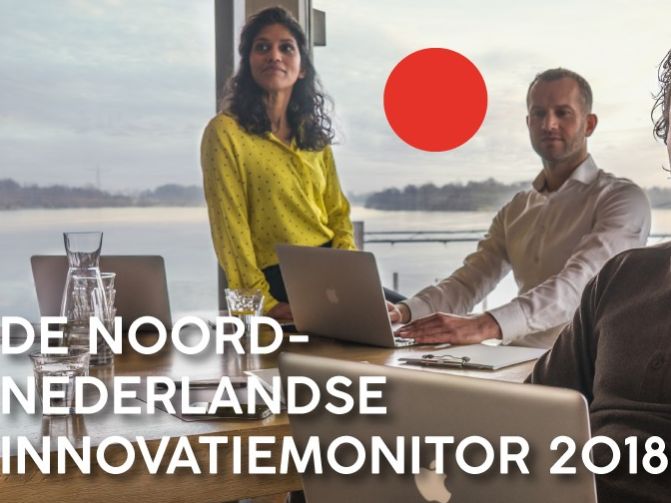 [English version below] Internet of Things, Sensortechnologie, Robotisering en Big Data zijn disruptieve technologieën die populair zijn bij Noord-Nederlandse ondernemers. Dit blijkt uit de Noord-Nederlandse Innovatiemonitor 2018 van de Rijksuniversiteit Groningen en het Samenwerkingsverband Noord-Nederland. Van de bevraagde ondernemers is meer dan 52% met minstens één disruptieve technologie actief aan de slag. Disruptieve technologieën verwijzen naar nieuwe technologische ontwikkelingen die bestaande sectoren en markten kunnen ontwrichten. Andere bekende voorbeelden hiervan zijn de Blockchain-technologie en de opkomst van 3D-printing. In de Noord-Nederlandse Innovatiemonitor 2018 is specifiek aandacht besteed aan de mate waarin het noordelijk midden- en kleinbedrijf (mkb) actief bezig is met disruptieve technologieën. Ondernemers in Noord-Nederland blijken deze technologieën te omarmen.
Lees de resultaten van de Noord-Nederlandse Innovatiemonitor 2018 >>

Download het Noord-Nederlandse Innovatiemonitor hoofdrapport 2018 >>
Meer informatie?
Voor meer informatie over de Innovatiemonitor 2018, kunt u contact opnemen met prof. dr. Dries Faems, hoogleraar Innovatie & Organisatie aan de Rijksuniversiteit Groningen: (d.l.m.faems rug.nl of 050 36 37296).
Over de Noord-Nederlandse Innovatiemonitor
De Noord-Nederlandse Innovatiemonitor is het resultaat van een strategische samenwerking tussen het expertisecentrum Vinci van de Rijksuniversiteit Groningen (RUG) en het Samenwerkingsverband Noord-Nederland (SNN), die in 2015 is opgestart. Naast de RUG en het SNN zijn ook MKB Noord, VNO-NCW Noord, TCNN, NOM, PNO Consultants, de Water Alliance en het Octrooicentrum Nederland als strategische partners bij dit initiatief betrokken. In de monitor van 2018 staan de volgende thema's centraal: financiering van innovatie, maatschappelijke versus economische innovatie doelstellingen, en nieuwe technologieën voor innovatie.
[English version]
Northern Netherlands entrepreneurs embrace disruptive technologies
The Internet of Things, sensor technology, robotization and big data are disruptive technologies that are popular with entrepreneurs in the Northern Netherlands. This was revealed in the Northern Netherlands Innovation Monitor 2018, run by the University of Groningen and the Northern Netherlands Provinces Alliance (SNN). More than 52% of the respondents are working with at least one disruptive technology. Disruptive technologies refer to new technological developments that have the potential to disrupt existing sectors and markets. Other well-known examples are blockchain technology and the rise of 3D printing. The Northern Netherlands Innovation Monitor 2018 specifically focused on the extent to which small and medium-sized enterprises (SMEs) in this region are working with disruptive technologies. It turns out that businesses here are embracing them.
Large and old more active than small and young
Larger and older SMEs turn out to be working more actively with disruptive technologies than smaller and younger ones. In other words, established SMEs are not twiddling their thumbs but actively working with these technologies so as to be able to profit from new market trends. It is often assumed that disruptive technologies are mainly the prerogative of small start-ups looking at specific sectors or markets from a fresh perspective. At the same time, it is also assumed that more established SMEs are not very keen to embrace disruptive technologies and will be left behind when these technologies cause radical and fundamental transformations. The results of the Northern Netherlands Innovation Monitor paint a different picture.
Impact on the economy
It is important not only for businesses but also for regions to be prepared for the impact disruptive technologies are going to have. After all, once these technologies take off they may have a major impact on the economy, causing substantial shifts in employment opportunities. Based on the results of the survey, Prof. Faems , coordinator of the Northern Netherlands Innovation Monitor, is promoting a more inclusive approach towards innovative disruptive technologies: 'In recent years, there has been a lot of investment in incubators offering start-ups a secure environment to actively work with disruptive technologies. There is nothing wrong with that in theory. However, we must not forget that more established businesses can also play an important role in addressing the challenges of disruptive technologies. It is therefore important to look at the wider picture regarding innovative disruptive technologies, in which established SMEs also play a role.'
Northern Netherlands Innovation Monitor
The UG Centre of Expertise Vinci and the SNN together coordinate the Northern Netherlands Innovation Monitor. The goal of the Monitor is to record and analyse the innovation activities, investments and achievements of SMEs in the Northern Netherlands. The strategic partners involved in this initiative are the TechnologieCentrum Noord-Nederland (TCNN, centre for technology in the region), the Investment and Development Agency for the Northern Netherlands (NOM), PNO Consultants, MKB-Noord (organization representing SMEs in the region), VNO-NCW Noord (Confederation of Netherlands Industry and Employers in the region), the Water Alliance and the Netherlands Enterprise Agency. Over 5000 SMEs in the region were invited to participate in the 2018 survey, 503 of which returned the questionnaires, providing substantial input.
Download the Northern Netherlands Innovation Monitor 2018 main report >>
More information
For more information on the Innovation Monitor 2018, please contact Prof. Dries Faems , Professor of Innovation & Organization at the University of Groningen ( d.l.m.faems rug.nl of 050 36 37296).
Tags:
Noord-Nederland
,
Ondernemers NNL
,
innovatiemonitor
,
Innovatiemonitor
,
innovatie
,
vinci
,
Innovatiemonitor 2018
,
MKB
,
innovatief
,
SNN
,
2018