Innoveren is vooruitzien, digitaal transformeren is doen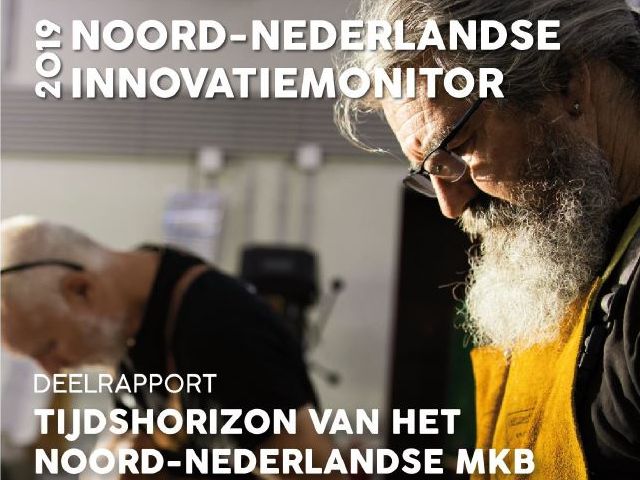 Digitaal transformeren moet je gewoon doen; in kleine stapjes en door snel te leren van uitkomsten. Dit blijkt uit het deelrapport 'Tijdshorizon van het Noord-Nederlandse MKB', gebaseerd op de uitkomsten van de Noord-Nederlandse Innovatiemonitor 2019 van de Rijksuniversiteit Groningen (RUG) en het Samenwerkingsverband Noord-Nederland (SNN). Bedrijven met een duidelijke toekomstvisie en die niet té ver vooruitkijken, laten de sterkste digitale transformatie zien.
Toekomstvisie daagt uit
De resultaten bevestigen het motto: innoveren is vooruitzien. De ontwikkeling van nieuwe producten vereist dat ondernemers nadenken over de toekomst. Een toekomstvisie zorgt voor extra investeringen in Onderzoek & Ontwikkeling en het aangaan van nieuwe samenwerkingen die tot meer productinnovaties leiden.
Digitaal transformeren is doen
Digitale transformatie, de overgang naar nieuwe verdienmodellen waarbij digitale technologieën een belangrijke rol spelen, gaat een stap verder. Ook hier blijkt dat kijken naar de toekomst helpt, maar een te verre blik vooruit is schadelijk. Digitale transformatie realiseer je vooral door te doen en snel te leren van de uitkomsten van digitale veranderingen. Lammert van der Wal, ondernemer en deelnemer aan de innovatiemonitor: "Als kleine onderneming in een startup fase, kijk je continu naar wat wel en niet werkt. Je wilt continu leren om steeds effectiever en efficiënter te worden."
Wie je wilt zijn bepaalt hoe ver je kijkt
Wat je als bedrijf wilt zijn, bepaalt sterk hoe ver je vooruit moet kijken. Wil je vooral innoveren en bestaande klanten nog beter bedienen of wil je de markt veroveren met een nieuw digitaal verdienmodel? Dr. Thijs Broekhuizen, universitair hoofddocent aan de RUG en coördinator van de Noord-Nederlandse Innovatiemonitor: "Innovators hebben baat bij een lange-termijn visie, plannen en investeringen. Zij moeten ver vooruit kijken. Maar wil je een digitaal bedrijf worden dan kunnen die plannen in de prullenbak. Digitale transformatie leer je het snelst door het gewoon te doen. Door snel te leren van bestaande ontwikkelingen, te experimenteren en continu te verbeteren. Digitale transformers denken niet na over de rol van blockchain of artificial intelligence maar passen deze technologieën direct toe. Hun verdienmodel passen ze aan door te kijken naar wat wel en wat niet werkt."
===================================================================
De Noord-Nederlandse Innovatiemonitor
De Noord-Nederlandse Innovatiemonitor is een initiatief van het expertisecentrum Vinci van de Rijksuniversiteit Groningen (RUG) en het Samenwerkingsverband Noord-Nederland (SNN). Sinds 2015 worden jaarlijks zo'n vijfduizend Noord-Nederlandse mkb'ers met een vragenlijst benaderd. De resultaten geven inzichten in hun innovatie-activiteiten, investeringen en prestaties. Naast de RUG en het SNN zijn ook MKB Noord, VNO-NCW Noord, TCNN, NOM, PNO Consultants, de Water Alliance, het Octrooicentrum Nederland, Koninklijke Metaalunie en Samenwerking Noord als strategische partners bij dit initiatief betrokken.
Het SNN voert verschillende stimuleringsregelingen en subsidieprogramma's voor het mkb uit. Het expertisecentrum Vinci maakt wetenschappelijke kennis toegankelijk voor de praktijk en levert vanuit de praktijk een bijdrage aan wetenschappelijk onderzoek.
Contact
Voor inhoudelijke vragen over het onderzoek kunt u contact opnemen met dr. Thijs Broekhuizen (t.l.j.broekhuizen rug.nl) of dr. Erzsi Meerstra (e.m.meerstra rug.nl).
Eerdere rapporten
Het deelrapport 'Tijdshorizon van het Noord-Nederlandse MKB' van de Noord-Nederlandse Innovatiemonitor 2019 vindt u hier.

Eerdere rapporten van de Noord-Nederlandse Innovatiemonitor vindt u hier >>