Hoe pluk je de vruchten van je creatieve ideeën?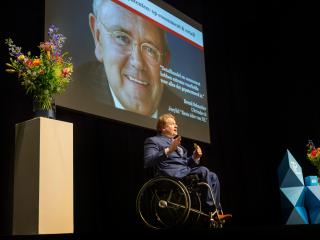 Ondernemers kunnen meer uit hun Intellectuele Eigendommen halen door meer aandacht te besteden aan de bescherming én strategische inzet van IP, dat was de boodschap van Thijs Broekhuizen tijdens het 5e IP Congres, georganiseerd op 20 april door het IP-attorney bureau Arnold & Siedsma.
Bedrijven hebben vaak voldoende creatieve ideeën maar hebben moeite om de voordelen die innovaties bieden te pakken. Teece (1986) beschreef een opmerkelijk verschijnsel: dat de innovator vaak uiteindelijk niet de winnaar is. De innovator pakt vaak slechts een klein gedeelte van de taart van alle waarde die hij creëert. De consument krijgt een beter product, de aanbieder verkoopt meer grondstoffen en halffabricaten, en de concurrent kan het idee tegen lage kosten kopiëren en gaat er geregeld met een groter stuk taart vandoor. Van wezenlijk belang is het om na te denken over de vraag: Hoe pluk je de vruchten van je creatieve ideeën?
Thijs gaf in zijn lezing aan dat de beste verdediging is om zowel gebruik te maken van juridische als strategische middelen. Ook al zijn juridische middelen over het algemeen minder effectief dan geheimhouding, market lead time (first-mover advantages) en superieure marketing, het betekent niet dat juridische middelen nutteloos zijn. Het slim inzetten van patenten of trademarks biedt de mogelijkheid om je product in de markt beter te differentiëren en daarmee de reclame-effectiviteit te vergroten.
Daarnaast deed Thijs – in navolging van Gordon Richard Thoman – een oproep aan managers om Intellectuele Eigendommen niet over te laten aan IP-advocaten, maar om actief mee te denken in de ontwikkeling en bescherming van IPs. Door het samenstellen van een multidisciplinair team bestaande uit top managers, juridische experts, business developers, en marketeers, kan er nagedacht worden over de gecoördineerde inzet van juridische beschermingsmethoden, de te ontwikkelen innovaties, en de trademarks en reclame. Zo kunnen bestaande IPs gebruikt worden voor nieuwe markten gebruikt, en tijdelijke protectiemechanismen (zoals patenten) omgezet worden in eeuwigdurende (trademarks).
"Managing Intellectual Property is the way to win. Many CEOs still [incorrectly] consider IP as legal matters that are best left to corporate attorneys, such that they can think of the truly strategic stuff of competitive warfare. But IP are business tools [that can be used strategically]…Rembrandts in the attic waiting to be exploited for profit and competitive advantage"
Gordon Richard Thoman
voormalige CEO van Xerox
Tenslotte deed Thijs een oproep om IPs goed te beschermen zodat ze niet verloren gaan door bedrijfsspionage. Bedrijven besteden veel aandacht aan goede bescherming door gespecialiseerde bureaus in te huren om hun eigen bescherming te testen om zodoende de dieven buiten de deuren te houden. Maar vaak bevindt de 'dief' zich binnen het bedrijf. Geregeld gaan (oud)medewerkers de fout in door belangrijke bedrijfsinformatie te verliezen of te stelen. Anthony Levandowski, een oud-Google medewerker wordt ervan beschuldigd dat hij lidar-technologie voor zelfrijdende auto's heeft gestolen. Google claimt bewijs te hebben dat Antony 9,7 gigabyte aan bedrijfsgegevens heeft gestolen, en dat de schade een half miljard dollar is! Zelfs bij een bedrijf als Google blijkt dus niet alles goed beveiligd. Zorg er dus voor dat je je personeel goed behandelt zodat ze zich niet met rancune tegen je keren, houdt het personeel wel goed in de gaten, en train ze zodat ze alert zijn op bekende en minder bekende valkuilen.
Meer informatie: Thijs Broekhuizen, t.l.j.broekhuizen rug.nl
Referentie:
Teece, D. J. (1986). Profiting from technological innovation: Implications for integration, collaboration, licensing and public policy. Research policy, 15(6), 285-305.
Tags:
Blog
,
innovator
,
juridische en strategische middelen
,
creatieve ideeën
,
Vinci
,
reclame-effectiviteit
,
Thijs Broekhuizen
,
superieure marketing
,
protectiemechanismen
,
Intellectuele Eigendommen
,
differentiëren
,
market lead time
,
2017