Evenement voor MKB ondernemers: Business Meets University op 14 december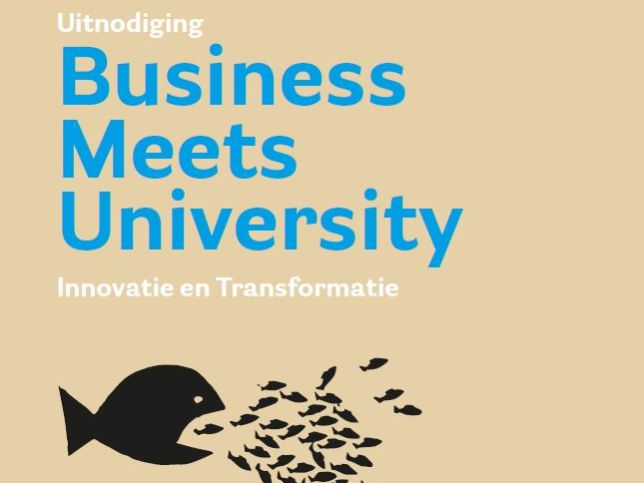 De wereld wordt steeds complexer en veranderingen volgen elkaar in hoog tempo op. Digitalisering en de transformatie naar duurzaamheid maken alles anders voor bedrijven en hun klanten. Zonder innovatie kan een bedrijf moeilijk overleven. De toekomst doet een beroep op uw interne creativiteit als ondernemer en vraagt om externe verbinding, juist voor het MKB.

Op 14 december bent u als MKB ondernemer dan ook van harte welkom voor een nieuwe editie van Business Meets University, deze keer gericht op Innovatie en Transformatie.

Datum: Vrijdag 14 december 2018, 14:00-18:30 uur
Locatie: Faculteit Economie en Bedrijfskunde, Zernike Campus
Programma: zie www.rug.nl/feb/mkb (pagina niet meer beschikbaar)
Deadline business case: 22 november
De uitnodiging downloaden >>

Tijdens dit evenement kunt u actief kennismaken met relevante expertise van wetenschappers, ervaringen uitwisselen met andere ondernemers, workshops volgen en sparren met jonge business talenten. U kunt ook vooraf een vraagstuk indienen dat speelt in uw eigen organisatie, waar u die avond dan gratis advies over krijgt van onze student consultants.
Dien een case in
Naast aanwezigheid bij het event, kunt u er tevens voor kiezen vooraf een vraagstuk in te dienen, waar onze studenten samen met u mee aan de slag gaan. Met de laatste kennis en een frisse blik geven zij u als ondernemer nieuwe inzichten; inzichten die kunnen leiden tot innovatie.
Wilt u bijvoorbeeld een product vernieuwen, of een nieuwe dienst ontwikkelen? Wilt u een andere doelgroep benaderen, of beter gebruik maken van (social) media? Of wilt u zich gewoon laten inspireren door de volgende generatie professionals? Dien vóór 22 november uw case in via www.rug.nl/feb/mkb, dan nemen we graag contact met u op.
We hopen u te zien op 14 december!
Hartelijke groeten,

Wijnand Aalderink en Simon Thunissen
Mede namens de collega's van FEB-for-Business
Tags:
Feb-for-Business
,
Business Meets University
,
2de editie
,
tweede editie
,
Innovatie
,
Vinci
,
VinCi
,
vinci
,
MKB
,
evenement
,
8 november 2018
,
transformatie
,
14 december 2018
,
ondernemers NNL
,
FEB-4-Business
,
business case
,
event
,
MKB ondernemers
,
2018