Free interactive online course: Decision-Making in a Complex and Uncertain World | taught by University of Groningen lecturers
Registration open!
Your career, your studies and your personal life: they're all about taking decisions. However, the world is complex, circumstances are uncertain and possible consequences are often difficult to anticipate. Learn to enhance your decision-making skills in a free online course at the University of Groningen.
Key lecturer: professor Lex Hoogduin, economist.

► Register now , free of charge. Start: 19 January 2015; 6 weeks, approx. 6 hours per week.
About the course
Watch lectures, take part in group discussions, work on case studies, take quizzes, write assignments, receive feedback and contribute to marking your fellow students' work.
About the subject
Dealing with complexity and uncertainty is a new, exciting and multidisciplinary field of study. The lecturers in the online course are economists, behavioural experts, biologists, planning experts and sociologists, who can tell you all about how to tackle major and minor decisions.
For Who
Are you a student or professional and would you like to become one of the future's key decision-makers? Then the course 'Decision-Making in a Complex and Uncertain World' may be just what you need!
Although this is an academic course, there are no entry requirements other than a solid pre-university background (for example a Dutch VWO diploma).
So would you like to

:
Learn about the cutting-edge academic theories of complexity and uncertainty and better understand the world around you?

Study online in an interactive, social and flexible setting?

Develop leadership qualities and add a high-quality academic course to your CV?

Then sign up now for 'Decision-Making in a Complex and Uncertain World' (MOOC platform: FutureLearn)

See you in the course!
6 weeks | Start: 19 January 2014 | Free participation | Certificate (optional)

---
---
Stay updated on the latest course news: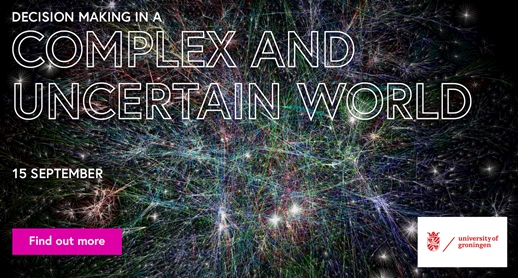 | | |
| --- | --- |
| Last modified: | 03 November 2017 11.51 a.m. |