Analyzing Classroom Interactions
Dates & location
8 - 12 July 2019, Groningen, the Netherlands
Few spots still available!
Level

BSc/MSc/PhD/Postdoc/Early career researchers

Fees

€

255 (excluding housing)


€ 500 (including housing)

Academic coordinators
Dr. Elisa Kupers, Faculty Behavioral and Social Sciences
Dr. Mayra Mascareño, Faculty Behavioral and Social Sciences
Dr. Naomi de Ruiter, Faculty UCG


Dr. Myrte Gosen, Faculty of Arts

Contact

aci.summerschool@rug.nl
Learning, inside and outside schools, happens in interaction between children and their teachers, parents, and peers. It takes human interaction to learn to talk, to do math, to collaborate and to learn autonomously. Research on educational interactions has grown tremendously in the past decade. It reveals important insights for educational improvement. This summer school will offer a broad range of methods to capture and analyse classroom interactions.
The University of Groningen is a pioneer in its dedication to interactional data, including the departments of Developmental Psychology, Educational Sciences, Special Needs Education and Youth Care at the Faculty of Behavioral and Social Sciences, and department of Linguistics at the Faculty of Arts. In this summer school, we will bring together the methodological expertise from the University of Groningen, as well as national and international colleagues, providing you with the opportunity to learn about different approaches and methods used within the paradigm of educational interactions.
Building on a unique combination of different disciplinary perspectives, this summer school will appeal to students and early career researchers with an interest, and potentially data, in interaction and learning; it will also welcome applicants without any previous training in the subject, who are interested in exploring classroom interaction as a subject for the continuation of their academic career.
During the summer school, you will have a chance to attend and take active part in lectures and workshops from leading experts. Techniques that will be addressed range from gathering and coding interactional data, to analyzing this data using qualitative and quantitative methods, such as content analysis, conversation analysis and statistical discourse analysis. Bringing in your own data for analysis and discussion is highly encouraged.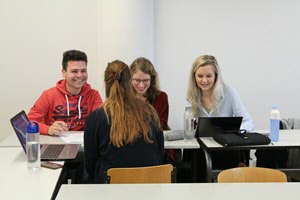 Lecturers
Ming Ming Chiu
Paul van Geert
Arja Piirainen-Marsh
Tim Mainhard
Heleen Pennings
Naomi de Ruiter
Myrte Gosen
Elisa kupers
Mayra Mascareño Lara
| | |
| --- | --- |
| Last modified: | 03 May 2019 12.19 p.m. |