Your First Weeks in Groningen: What to expect, do and look forward to!
| | |
| --- | --- |
| Date: | 23 July 2020 |
| Author: | Asmo |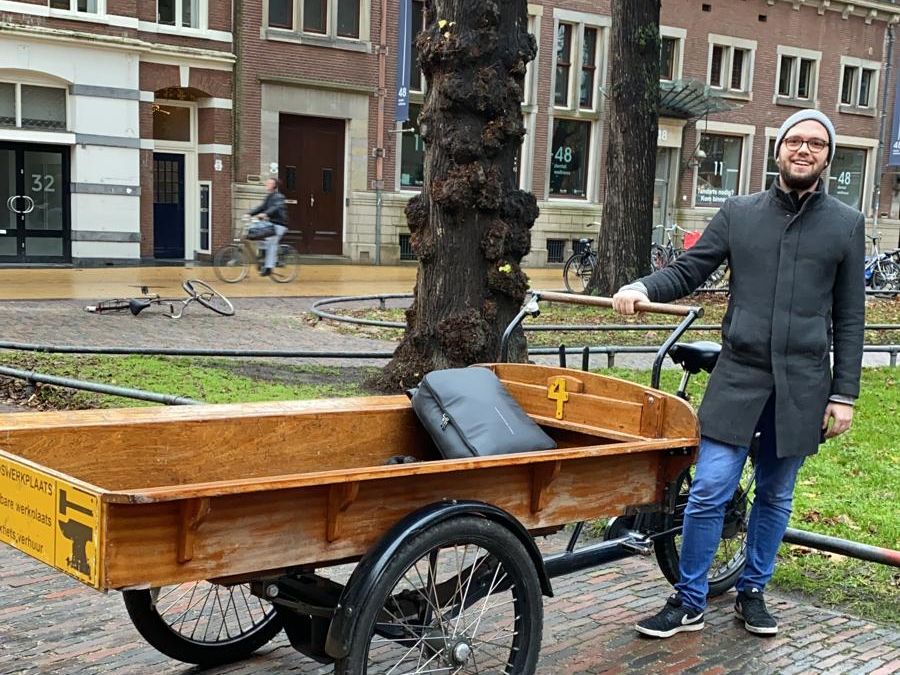 While some students may prefer to stay at home for the duration of the first semester, there are also those who will make the move to Groningen to kickstart their student life. It goes without saying that the beginning of the next academic year will be completely different from what we are normally used to. But although a lot of the regular events which would normally take place have been cancelled or postponed, this doesn't mean that there is nothing going on or nothing to look forward to when you arrive in Groningen. In this blog, I will share some of the things you can reasonably expect when coming here.* Moreover, I'll try to give you some additional tips on what you can do despite the social distancing rules and what you can look forward to once Groningen goes back to normal.

What to expect:
Depending on your faculty, most of the classes taking place in the first semester will be held online. The University will also organise an online welcoming ceremony for all new students, so make sure to stay tuned for more information on that. Similarly, your faculty will be probably organising introduction sessions (the majority of which will be online) where you will receive some important information and tips regarding administrative things. Moreover, each faculty will do their best to make sure that new students also get to meet some professors and classmates online. In addition to this, student associations will be organising online introduction weeks which new students can sign up for in order to meet new people and get acquainted with the city and Dutch culture.
If you want to go to the university library to study, you can reserve a spot online a few days in advance. However, if you want to go for a spontaneous study session instead, you can also check out the Forum for some study spots. Most restaurants and bars in the city will be open for a limited amount of people, as long as a safe distance can be guaranteed and you have made a reservation beforehand. Shops will also be open as usual, but be prepared to disinfect your hands when going in and wait in line to get inside if it is too busy. It is only mandatory to wear face masks when using public transport, so make sure to have one ready when you use it to travel to/from Groningen, or on buses within the city. However, the best way to get around the city is anyways by bike, and you won't need a face mask for that!

What to do:
Despite having to adhere to social distancing rules, there are still plenty of things you can do during your first weeks. For example, make sure to check out one of the many parks in the city or go wandering around the canals. One thing I would highly recommend you to do, is to rent out a kayak and explore the city from the water! There is also a large lake in the south of Groningen where you can go to enjoy the last hot summer days in August and September (and maybe even go for a dip!). Another great outdoor activity you can do to explore the city is simply going for a bike tour. There are so many things to explore here and as a bonus you will also know how to find your way around Groningen super quickly! One thing that is especially nice this year, is that many restaurants and bars have received special permits to extend their terraces onto the streets and plazas while also staying open longer. This means that there is plenty of outdoor space to enjoy some food and drinks when the weather is nice! These are just a few ideas on what you can do, but if you are curious to know more check out Danique's 'staycation' blog or read my blog on how to meet new people despite Covid-19.

What to look forward to:
While Groningen may not be able to live up to its full potential right at the beginning of your studies, there are plenty of things you can look forward to. Normally, the city is bursting with people going out until late at night. Once the social distancing rules are relaxed a little bit, you can look forward to experiencing the energy and vibe that comes with this. Usually, there are also a ton of different festivals taking place throughout the year. Some of the highlights include Noorderzon, Eurosonic, Liberation/Kings day, Nazomeren, Paradigm festival…. I could continue going on, but I think you get the message. Sadly, we don't quite know yet when this will be possible again but we sure hope it will be sooner than later!
*Disclaimer: This information is correct at the time of writing but may change without notice, particularly with regards to the Coronavirus measures. Please check www.rug.nl/corona for the most up-to-date information.
If you have any questions regarding your move to Groningen leave us a comment below or send your question to prospectives rug.nl. See you soon!
About the author
Asmo
Hey there! My name is Asmo and I'm a Finnish/German student exploring life in the Netherlands. Besides being into photography and politics, I am currently completing my double master's degree in European law and international law. Oh, and I write blogs as well.
Comments