Week in the Life: MA English Literature Student
| | |
| --- | --- |
| Date: | 16 November 2022 |
| Author: | Hylke |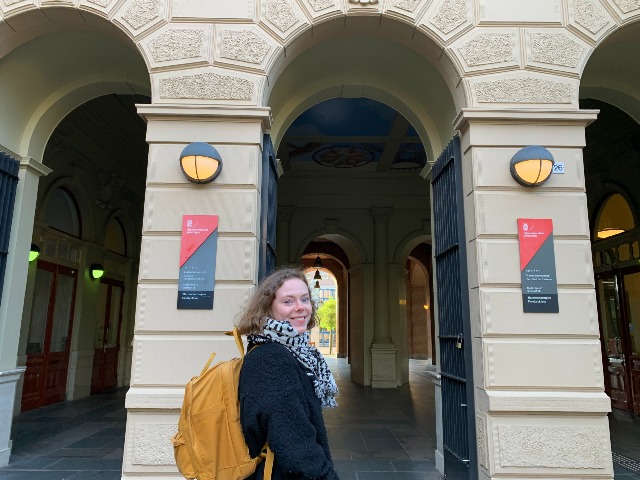 Are you still doing your Bachelor's and are you curious whether your life will change dramatically when you start your Master's? Then, read along! In light of the Master's Week taking place from 21 - 25 November 2022, Hylke shares a week in her life as a MA English Literature student.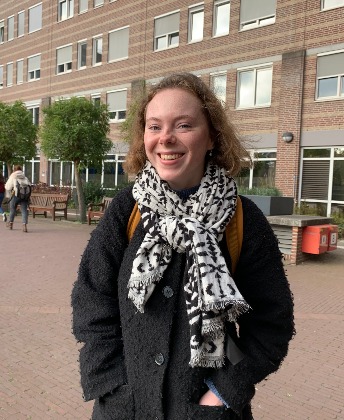 About me
Hi! I am Hylke, a MA English Literature student. In my programme, I follow tutorials that elaborate on specific topics in English literature, such as the Modernist movement, or authors such as Virginia Woolf and T. S. Eliot. The programme is part of the Faculty of Arts, so most of my classes take place in the Harmony building. In this blog, I will tell you about my week! But keep in mind, I can only speak from my experience and my programme. Every week is different. Sometimes I have lots of social things planned with friends and other weeks I prioritise my studies. This week, it was a mix of both.
Monday: work, work, work
On Monday, I worked from 9AM to 5PM. I work as a student assistant for the International Marketing Team within the University of Groningen. I do this for 16 hours every week. My job is to write blog posts and newsletters, but I also occasionally write captions for our Instagram, LinkedIn or Facebook. I love it because I really like to write and the job is flexible so I can schedule my hours around my studies. Today, I wrote a blog post about 9 must-have apps for the exam period, which took lots of time because I had to do research on which apps would be interesting and useful for students. At the end of the day, after I sent the blog post to my supervisor for feedback, I wrote some captions for Instagram and set up the newsletters for next month.
I was quite exhausted after work, because I hadn't really left my place behind the computer screen all day. But I couldn't relax yet as I had to hand in an assignment. Luckily, I had finished writing it the day before, so I only needed to check it one last time. Often, when finishing an assignment, I don't touch it for a day so I can look at it with a fresh pair of eyes before handing it in. After that, my boyfriend came over. We cooked dinner together and watched a show which was a lovely and relaxing end to the day.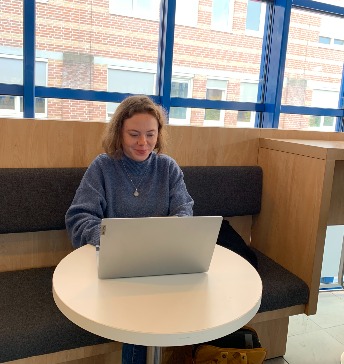 Tuesday: a whole lot of studying
On Tuesday, I had class in the morning. The course prepares me for when I need to write my thesis. Almost every seminar, a researcher of the English department gives a presentation on their research. These presentations are meant to broaden my knowledge and to get me thinking about what topic I want to do research on for my thesis. For instance, there was a presentation about research on the Medieval manuscripts in the Osler Library which is part of McGill University, and one on antisemitism in The Prioress's Tale written by Chaucer which was very interesting. During the course, I also learned how to write an annotated bibliography, which is a bibliography with comments on how you are planning to use the sources and what they contribute to the field you want to do research on. This is an element in my thesis proposal, which I need to hand in if I want to start writing my Master's thesis.
After class, I had lunch with some friends and caught up with them. Studying with friends is way more fun than on your own, so I was glad that they could join me today. For the rest of the afternoon, I worked on my thesis proposal and on a poem for my other course, Creative Writing, which I will talk about later in this blog. It was a very productive study session! When I got home, I quickly ate dinner and went to the gym to unwind. Working out really helps me to de-stress and to maintain my physical and mental health. This was the only time this week that I set foot in the gym, though. So don't feel bad if you weren't able to go to the gym because you had to study this week. I occasionally have a week where I can't go to the gym because I'm too busy. After working out, I went home, showered and called it a day.
Wednesday: working hard but having fun
The next day, I was working again! It was a busy day just like Monday. I like being busy as it gives me a sense of accomplishment at the end of the day and the day goes by faster. My main priority was to get my blog live. As I had not received any feedback yet that morning, I started my day by writing some captions. When I was done with that, I went to the Academy building with a colleague to take photos for the blog. It's always nice to shoot content as it is a break from sitting behind your computer and I can catch up with my colleagues. The International Marketing team consists of 6 full-time staff members and 7 student assistants from different backgrounds. What's really fun about being a student assistant at the UG is that you are able to do a lot of different things, so every day is different! After my lunch break, I got feedback on my blogpost. This took a while to implement, but eventually the blog was ready to go! I posted it on the student blog and, then, the only thing left to do was writing a caption for Facebook and making an Instagram story.
At the end of the day, I headed home to unwind for a bit and then I went over to my friend's to eat dinner with them and my boyfriend. It was so nice and fun! We ate couscous with roasted vegetables (I have shared the recipe, together with some other tasty recipes, in the last blog post), which was delicious. We also played some games. After that, I went home and immediately fell asleep.
Thursday: switching things up
On Thursday, I decided to switch things up. Normally, when I have lots of work to do, I start studying at 9AM, but today I decided to have a little bit of a lie in. At 10AM, I went into the city centre to shop for a dress for my graduation ceremony because I want to go all out and wear something special for the occasion. After many many shops (literally the last shop I went into), I finally found a dress I loved. I also bought a present for my friend who celebrated her birthday the next day, and wandered around the bookshop for a bit. Whenever I'm in the city centre, I will always go into the bookshop. I just love that place: the smell of books and the coziness of the shop. While going in gives me that serotonin boost, it's not good for my wallet as I often leave with a book or two. This time, however, I succeeded in restraining myself from buying my whole wishlist!
After my little shopping session, I went home to drop everything off. Then, I packed my bag and headed to the Harmony building again for a study session with a friend. That afternoon, I had a meeting with one of my professors to talk about my idea for an essay. After the meeting, I developed my idea some more and worked on my thesis proposal again. At 5PM, I went home, which is usually when I end my study sessions, made dinner and relaxed by watching a show and reading my book.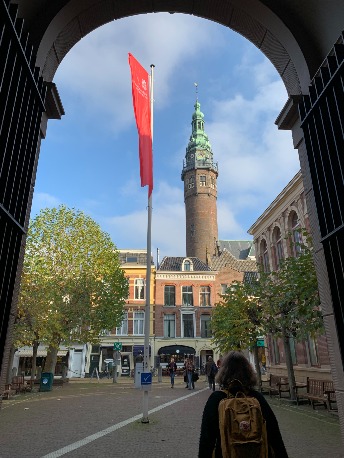 Friday: going home to celebrate
On the last day before the weekend, I had class in the morning. I love these early classes because I still have the whole day to study or to do fun things, although I don't really like waking up early. This time, the class was for my other course which is a creative writing class about poetry. Each week, I learn about a new genre of poetry such as the epic, rune poems, lyrics etc. This week's focus was Indian sound poems. We got a lecture on the genre and my professor explained what creative writing exercises we had to do that week. For one of the exercises, for instance, I have to recite a mantra while focusing on a certain diagram. This I have to do for 10 minutes and then I have to write a reflective poem about the things I thought about and the feelings the recital evoked. During the class, I also got feedback on my exercise from the week before which was really helpful.
After class, I didn't stay to study. Instead I went home to pack my bags as I had to travel back to my parent's because a friend of mine celebrated her birthday with dinner. So, I caught a train and did some work there. When I got home, I got ready and headed to my friend's. It was lovely to see all of my high school friends again! I don't see them often because we all study in different places. The vibes were amazing and the food was delicious; it was such a nice start to the weekend.
The weekend: at home
On Saturday, I slept in because I stayed up late the night before. I slowly ate breakfast and started working on my assignments. I did lots of research for my creative writing essay and also for my thesis proposal as I had to add more in-depth analysis to my annotated bibliography. After dinner, I made sure to spend time with my family as I had not seen them in a while, so we caught up and watched some television. On Sunday, I also worked on my assignments. Normally, I try to take my Sundays off, but as my deadlines are rapidly approaching I had to do some work. I did, however, take the afternoon off because I traveled back to Groningen with my boyfriend, who was visiting his family as well. We decided to treat ourselves: we got take-out and ate it while watching a show, which was the perfect way to end the week.
So, this was my week! Although I had to study hard, it was a fun week with lots of social activities with friends. Balance really is key here. How does your typical week compare to mine? Is it less or more busy? Let me know in the comments!
About the author
Hylke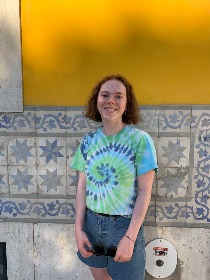 Hiya! I'm Hylke, a Dutch MA English Literature student. People often ask me if I'm Frisian, but sadly I'm not; I just have a Frisian name. I love reading, writing, meeting with friends, and the colour yellow, so much so that I take pictures of every yellow wall I can find!
Comments