The perfect way to spend the Bachelor's Open Day
| | |
| --- | --- |
| Date: | 08 November 2023 |
| Author: | Hylke |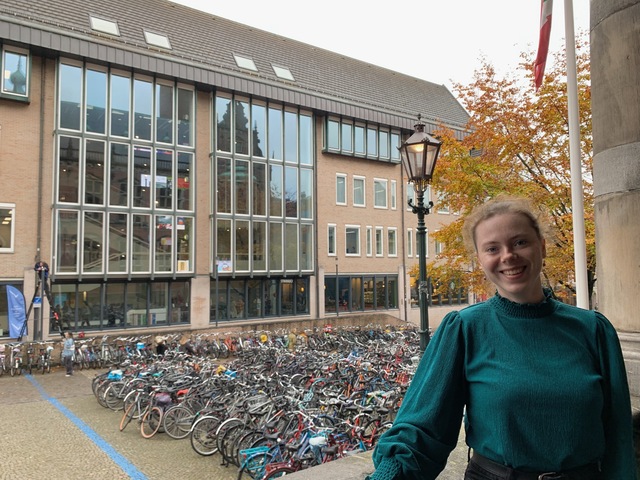 Are you going to take your final exams soon and do you want to decide what the next step in your life is? Then come to our Bachelor's Open Day! After registering via our website, the preparations can start to make the most of this day. In this blog, we have listed some places and sights you must remember, these will make your day complete!
Your alarm will probably go off early to come to our Bachelor's Open Day; our doors open at 10:00. Going by public transportation? On arrival at the train station, don't forget to walk through the beautiful, old station hall and look up. Unsurprisingly, this hall is often compared to a cathedral. Once you've walked through the hall, the Groninger Museum will catch your eye with its bright colours and unusual shapes. I can recommend walking through the Folkingestraat on your way to the university. This shopping street was named 'Nicest Shopping Street in the Netherlands' in 2015 and certainly lives up to its title. Every shop and restaurant is unique and there's lots of hidden art from the days when this street was a city centre for Jewish people. Once you arrive at the university buildings, your day can really begin!
A look behind the scenes at the University of Groningen
During the Bachelor's Open Day, you can attend general and programme-related presentations, visit our information markets, and attend workshops. These activities are spread across the city, allowing you to admire various UG locations. During this day, don't forget to visit information markets where, as the name suggests, you can get information about the studies and faculties you're interested in. You can also learn about housing, study financing, enrollment, study guidance, the introduction week, sports clubs, culture, and student associations. There, you will get the chance to ask students anything you want, so don't hesitate to ask them everything you want to know!
The various UG faculties and locations are easily reachable by public transport, bicycle or bus. Did you know that our only faculty outside Groningen, Campus Fryslân, also holds information sessions in Groningen during the Bachelor's Open Day? You don't have to travel to Friesland to get the information you need!
Most of our faculty buildings are splendidly located in the city centre. If you stay in the city centre, you can easily walk from place to place. Do you want to visit study programmes at Zernike? You can take the bus or cycle for about 15 minutes from the city centre, as this location is up in the north of the city. I recommend grabbing an OV bike at the train station to get a good impression of Groningen on your way there!
Time for a break
Make the most of your time between presentations by exploring the city and taking a seat on one of our cosy terraces! Groningen has plenty of sights and cosy cafés and restaurants you don't want to miss. Hopefully, the weather is nice and you can enjoy a drink on one of our "gezellige" terraces. Around the corner from the Academy Building is the Oude Kijk in 't Jatstraat, known for its cosiness and fun coffee spots. Enjoy a piece of cake at Koffiestation, eat a healthy lunch at Feel Good or FLFL, and make yourself at home in the living room atmosphere of café MASMAS. Apart from these examples, the street has plenty of other fun cafés and restaurants, so this street is worth visiting during your break. Curious about local delicacies? A little further down the street, you will find two locations of the Groninger restaurant Wadapartja. The name alone is typically Gronings (the Groningse version of "how weird, yes"). Walk to either the location on Gedempte Zuiderdiep or the one near Westerhaven and taste Groningen!
Nothing beats Groningen
At 97 metres tall, the Martini Tower, which has been here since the 13th century, is one of Groningen's most prominent buildings. This tower is the symbol of the city and cannot be missed. You can climb it to enjoy a nice view of the city. However, I would also recommend visiting Forum Groningen. On each floor of this modern building (which opened in 2019), you can experience something different. There's, for example, a comic book museum, cinema, café and library. If you go up all the escalators, you will arrive at the impressive roof terrace where you have a fantastic view of the city as well as the Martini Tower!
More than just fish at the Vismarkt
On Tuesday, Friday and Saturday there's a market in Groningen. Centrally located on the Vismarkt are colourful stalls where you will encounter all the smells and colours of fresh produce. The place is buzzing with people and you can score delicious snacks such as fresh herring or the well-known creamy stroopwafel [two waffles with caramel in between]. When you're outside the Academy Building, you can faintly hear the market, so going there is recommended.
As you can see, you won't be bored in Groningen! Hopefully, the Bachelor's Open Day will allow you to decide on what you're going to study and to discover all these places. If you have any questions about the Bachelor's Open Day, studying in Groningen, or the city itself, you can contact one of our students via this link. See you in Groningen! :)
About the author
Hylke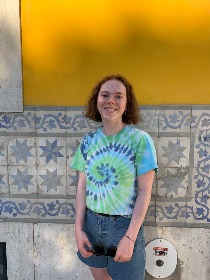 Hiya! I'm Hylke, a Dutch MA English Literature student. People often ask me if I'm Frisian, but sadly I'm not; I just have a Frisian name. I love reading, writing, meeting with friends, and the colour yellow, so much so that I take pictures of every yellow wall I can find!
Comments