Resources to cure your Blue Monday blues
| | |
| --- | --- |
| Datum: | 18 januari 2021 |
| Auteur: | Avital |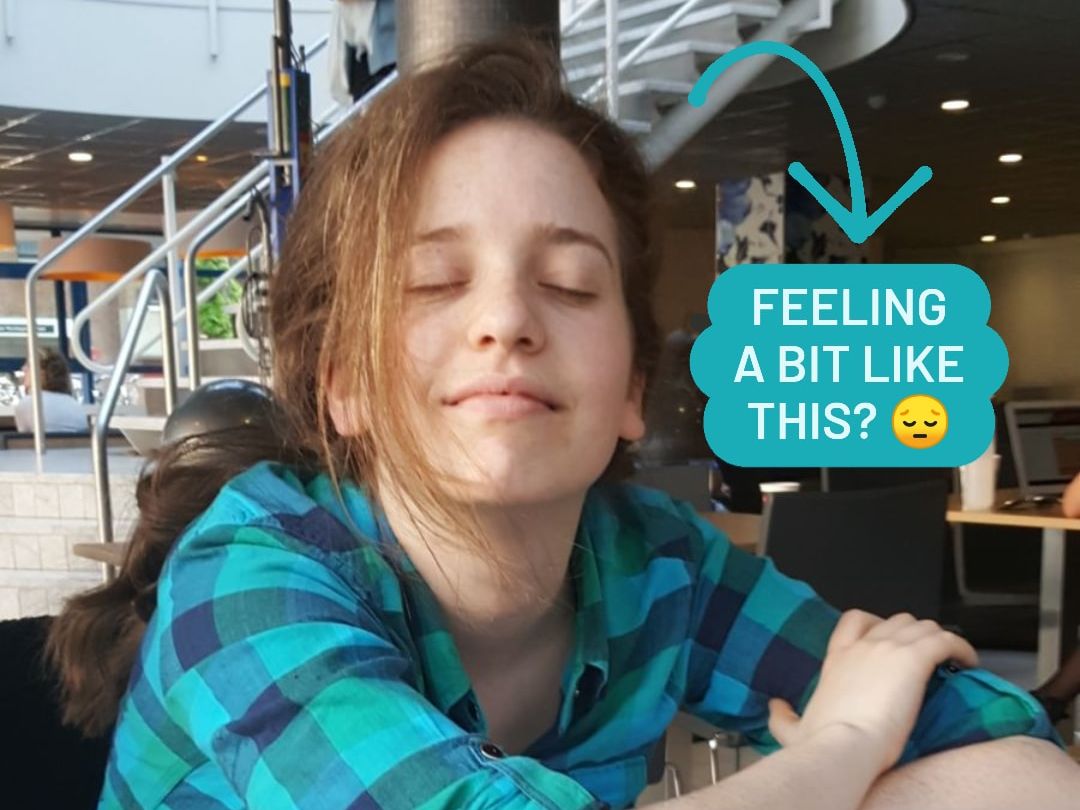 Ever heard of Blue Monday? It's a term often used for the third Monday of January, when the holidays are over, your study and work routine has kicked in again and you might be feeling a little down. So let me share some resources with you to help you deal with your Blue Monday blues and hopefully cheer you up!
Calm your mind
The past year has been a lot to deal with, so let's acknowledge that and be kind and forgiving to ourselves. It might be that the constant lockdowns are giving you anxiety (trust me, I know the feeling) or that you find it difficult to concentrate. Meditation (and yoga!) can really help you calm your mind, get rid of any intrusive thoughts, and give you a different outlook on things. There are many different apps for short meditation and breathing exercises, but you can also find a bunch on Spotify. I suggest trying several ones to find a voice that you like listening to. My favourite meditation app is Headspace. The app (and web version) offers a lot of free guided meditations, both short and long, which are suitable for different times of day (such as morning or right before you go to sleep) or for dealing with particular issues, such as loss or depression. That way, you will definitely find one that suits your needs. If you enjoy running (or have wanted to get started for a while), I suggest using the Nike Run Club app. There, you'll find guided runs, which have been developed with Headspace. There are runs for different moods and goals, ranging from 'tough day, easy run' to a 'thank you run' and a 'I need a win run'.
Are you feeling anxious but you don't have a quiet place to meditate? I love the sound of rain and thunder, so listening to these sounds in the background of whatever I'm doing, has a calming effect on me. I use Noisli to create my background mix of sounds. Perhaps you prefer jazz music or the sound of birds chirping. Whatever it is, creating a calming playlist to put on when you start feeling overwhelmed, might help relieve some of those heavy feelings. Try to find music that is both calming and uplifting, so that the clouds in your mind can slowly disappear.
So you think you can't dance?
Nonsense, everyone can! Better yet, everyone should, in my opinion! Dancing to your favourite songs is guaranteed to cheer you up, as you'll be enjoying the music and thinking about nothing else than shaking your body and releasing all those endorphins that will make you feel better! There's a good reason my life motto is when in doubt, dance it out and it's the fact that dancing never leaves me (and hopefully you too) disappointed, you've at the very least taken your mind off whatever might be bothering you for a little bit! My go-to music choices for instant happiness are Broadway musical cast recordings and literally every song by ABBA - all very suitable for that mood-lifting solo student dorm dance party. For you that might be techno, pop or any genre of music really - just think of your neighbours and put on some headphones. Then, just dance like no one is watching, because, well, no one is! ;-)
Asking for help
Are you feeling stressed, depressed or simply not very blessed at the moment? Asking for help when you need it is really important! Whether you're missing home, just need someone to talk to or could use some practical tools, a professional can assist you in learning how to best deal with the situation. The UG has several resources to help you cope with any difficulties you may face, whether they are related to personal circumstances or when you are struggling with your studies.
The UG Student Service Centre offers one-on-one counselling with psychologists who are there to help you. There are also various courses and workshops which you can sign up for about such topics as dealing with stress and living your life to the fullest. Log in with your student account to view their starting dates and registration details.
Are you struggling with your courses or are there personal circumstances that are affecting your study progress? Talk to your study advisor about these things, as they will be able to help you come up with a plan to make the situation better and more manageable for you.
Do you prefer an anonymous approach?
Are you looking for help to improve your mental health but would you rather not share your difficulties quite yet? Then the online self-support (E-health) modules by Mirro might be the right fit for you! These self-paced online modules deal with a variety of topics and give you tools to help with minor mental health issues. There are short videos and useful tips and information so that you can understand your situation better and in that way work towards improving the way you feel. You can access these modules by logging in on the Student Portal and using this link.
Everyone has periods of feeling low, unmotivated and sad. Just remember: you are not alone in this and it is most definitely not something to ever be ashamed of! The various resources I've shared exist for a reason, so use them and find one that works for you.
I'm sending you a virtual hug (corona-proof) and hope that these tips help you a bit so that you can be your cheerful self soon enough! Do you know a friend who could use a pick-me-up? Send them this blog or some of your own suggestions to cheer them up a bit. It's important to check in with each other!
Would you like to share your suggestions with us? Use the comment section below!
Over de auteur
Avital
Hoi hoi! My name is Avital, Israeli by nature, Dutch by nurture and always on the lookout for cute cats! My life motto is "when in doubt, dance it out"! When I'm not dancing around my room, I'm most likely learning yet another language or working on my Linguistics degree.