New Year's Resolutions - Here's to 2021!
| | |
| --- | --- |
| Datum: | 01 januari 2021 |
| Auteur: | The Blog Team |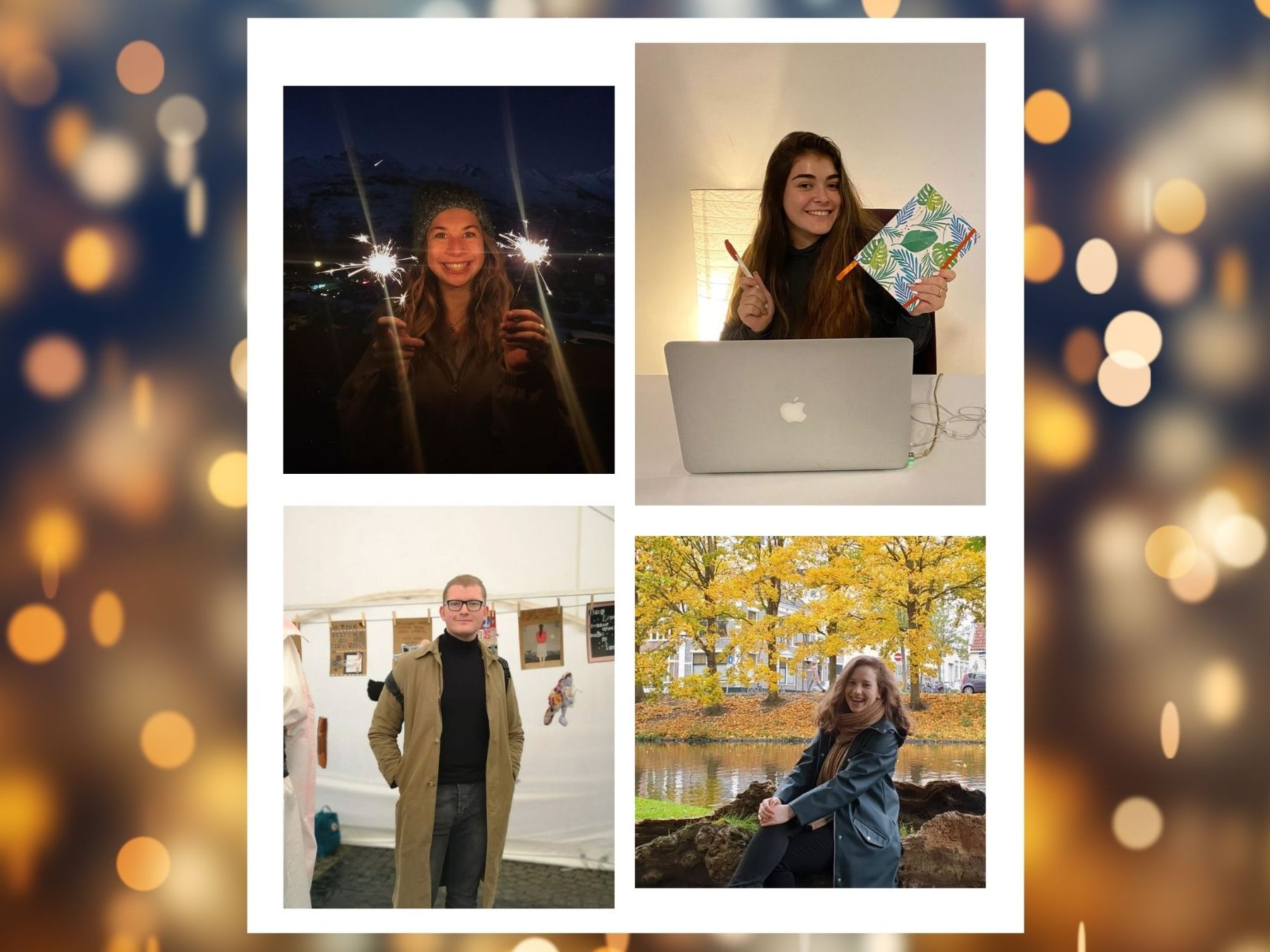 HAPPY NEW YEAR! Hallelujah, we're in 2021 and can finally leave 2020 behind us! It feels like we've been waiting for this new year to start ever since 2020 started escalating into that weird mess that it was. So new year, new chances and new goals. In today's blog, we'll be sharing our New Year's resolutions with you, in the hopes that they inspire you and at the same time force us to stick to them now that we've put them out on the Internet.
Danique:
Become a morning person (or at least try)
I am, in no way at all, a morning person. My productivity really doesn't start until 10, 10:30ish. This is fine for my MA-thesis lifestyle I've been living these past few months, (wake up at 9, start working at 11, stop in time for dinner, sometimes continue after dinner), but come February I will be starting an internship with hours from 8:30am-5pm, every day, 5 days a week. This means I really need to train myself to actually be productive in the mornings instead of just being awake. That's why this is definitely one of my most important new year's resolutions, because my 45 minute snooze sessions every single morning are really a thing I'd like to leave in 2020. I'm guessing I'll be needing a strict sleep regime and lots of coffee, and hope that I'll be functional before 10am.
Read unread books
One of my toxic habits is buying books even though there is still a huge pile of unread books sitting on my desk. I really like books, I just don't have/don't make the time to read them. While I am happy that I have a growing collection of books, there are still some books that I bought in high school that I still haven't read. That's 5 years worth of unread books! While I don't want to put a book-buying embargo on myself this year, I do want to try to work through what I already have. This goes hand in hand with taking more time to read. I always tell myself 'oh I don't have any time', but watching How I Met Your Mother reruns for the 6th time isn't really something I necessarily have to do. Here's to less Netflix, and more books!
Avital:
Graduate (at last)!
This particular goal has been years in the making, literally. I'm looking forward to graduating from my Bachelor's programmes in 2021 and officially calling myself a linguist wherever I go (as if I don't already do that, unofficially). I am still weighing my options for doing a Master's, but what I do know for sure is that I would love to stay in Groningen for a little while longer. But before any of that, there is still one semester and my final projects for me to pass. I'm actually really looking forward to these next few courses, as I will be conducting research in areas that I find interesting. And, while I think the chance of a digital graduation ceremony might be a little sad for some, it's actually pretty ideal for me. That way, my family from Israel will be able to attend virtually!

Find a better work-life balance
If there's anything I've learned in the past few years, it's that I'm really good at taking on all the opportunities I get. The downside is that I sometimes go a week without any free time for myself, whether it's for doing yoga or just reading a book on the couch. In 2021, I want to make a conscious effort to have more me-time, so I can do things that are not study- or work-related during the week instead of just during the weekend. This will have positive effects on my mental and physical health, which I sometimes neglect a bit. I'm starting small, with 30 minutes a day of reading (or something else that doesn't involve staring at a screen) and 30 minutes of some form of exercise (probably dancing in my room to some 90s tunes). Once I'm used to this, I can increase the amount of time, but I've learned that starting small and progressing gradually is the key to creating a good routine.
Ariana:
Be productive!
As much as I've tried, 2020 honestly has been my year of slacking off. I've noticed a huge decline in my levels of productivity since the pandemic began, and in 2021 I want to get back on track. Hopefully, by the end of this academic year I'll be graduating from my bachelor's programme. However, for this to happen, I'll need to get extra tough on my studying habits to ensure I can write a great thesis this upcoming semester. If 2020 was the year where we all realized we needed to stop and take a break, then 2021 is the year we push on the gas again! Whenever I begin to feel like I can accomplish small things, my motivation levels increase drastically. Thus, I know I'll have to start small before I can go back to being an essay-writing machine. I still don't know exactly what I'll do, but I know I can find plenty of inspiration on the people around me (my colleagues have written a bunch of productivity-related blogs that you too can find here on our website, such as this one and this one)!
Luc:
Get Fit (get swole, bro)
I have no doubt that this is on most of our resolution lists. Last year, I resolved to lose 10kgs during the year, and now I only have 14kgs to go! I deeply relate to social media star Elsa Majimbo. When she was asked, "what have you gained in quarantine?" she replied, "weight, a lot of WEIGHT!"
I honestly believe that 2021 will offer more opportunities to get fit and lose those quarantine kilos. With a vaccine on the horizon, we might return to some 'normal life' in 2021.
Getting fit can be a struggle (especially when you have transformed into Jabba the Hutt from Star Wars). However as any Instagram fitness influencer will tell you, the hardest part of starting a fitness journey, is starting. So I thought I would share some motivation to get you started on your fitness journey.
1) Don't worry about making a fool of yourself.
Everybody has to start somewhere, and I promise you, nobody is going to judge you if you are using the hack squat machine wrong. In my experience, people at gyms are often eager to help you if you get stuck trying to use a piece of equipment.
2) Gyms aren't for everyone, and that's fine.
If you are not interested in going to a gym, that doesn't mean that you can't get swole like Rudolf the Red-nosed Gainz-deer. In fact there are so many ways to get fit without needing equipment for a gym-membership, like watching a youtube video of a HIIT workout of doing some yoga (we all could do with the zen!).
3) Start small
If you are worried about where to begin, start with baby steps. Go for a walk / jog on Groningen's many walking paths (those to the north of Zernike and around Kardinge are my personal favourites).
To conclude, 2021 is our year to get fit! Although the virus is still around, there are safe options to ensure that you can stay motivated and fit. Check out Asmo's blog about unusual solutions to keep fit at home.
What are your New Year's resolutions for 2021? Let us know in the comments!
Over de auteur
The Blog Team
Hey! We're Danique, Marije and Asmo and work together as part of the blog team. Sometimes we go outside and take cringey pictures together for our blogs. So if you see us walking around Groningen together... that's probably what we're doing.