How To Become A Virtual Groninger
| | |
| --- | --- |
| Date: | 01 June 2021 |
| Author: | Luc |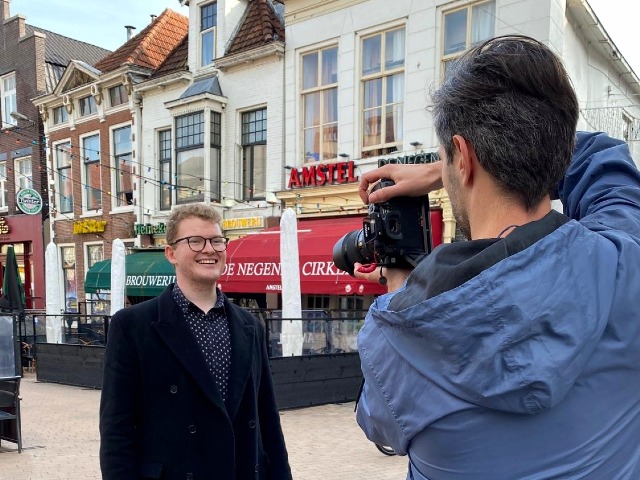 The coronavirus pandemic has shifted the way in which we are allowed to interact with people, our academic studies and our engagement with our environment. Although life is somewhat returning to 'normal' with the rollout of vaccines and the relaxing of lockdown measures, some key features of student life are inaccessible to us. This specifically affects prospective students who are unable to come to our university and experience the usual tours. However, there are some really cool virtual alternatives that will allow you to familiarise yourself with the UG!
Become a Virtual Groninger (Online Game)
This is possibly the most exciting online experience to take part in if you are considering coming to Groningen, or if you already live here and want to learn more about the city. In this game you can experience the Vismarkt, where the open-air market for fresh produce and delicacies takes place, or walk through the Noorderplantsoen – one of Groningen's idyllic parks. This interactive experience is the perfect way to get to know Groningen! You can even experience the Groningen nightlife (which is not as readily available as before the pandemic). You'll even learn some Groningen phrases, recipes and facts. This monumental virtual experience has been created in association with City Central, Marketing Groningen, the Hanze University of Applied Sciences and the UG! This game was created specifically as a way for people to get to know the city of Groningen. It is the perfect way to virtually reside in and learn about the city and its history. You can access the game here.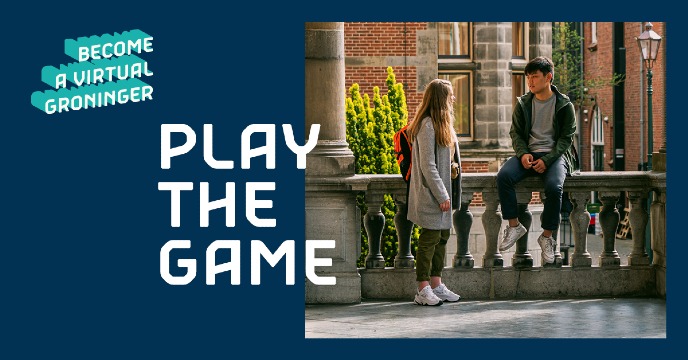 Virtual Tour of the UG!
Nynke and Luc (that's me) were tour guides for a day! We walked around key buildings of the UG as well as some of the main attractions found in Groningen. From the Academy Building to the Groningen Forum – this tour will take you through the city, and inside the UG buildings. Did you know that you can study in an old jail cell? Or that the Poelestraat houses 17 historical buildings which are now restaurants, bars and nightclubs? These facts can be found in the tour which consists of a few VR tours where you can walk through parts of the city to get an accurate feeling of Groningen and our university! To participate in this virtual tour, you will need to download an app on your smartphone and enter the access code! You can find information on how to do that here.
Live Streams
Did you know that there is a 24 hour live stream of the central square in Groningen? You can watch the people come and go, our iconic town hall (Stadshuis) and views of the Drie Gezusters (which has been given the title of largest pub in Europe!). You might even glimpse a protest or sit in where students and residents advocate for social issues. If you join on a Saturday you'll probably see some market stalls. You can access the stream of the heart of our city here.
If you are considering studying at our Campus Fryslan in Leeuwarden, there is another livestream available to you! This stream focuses on one of the idyllic central canals of the city. You can take a look at the bikes, boats and residents of Leeuwarden going about their day here.
Keep up to date
The best way to engage with the UG virtually is to keep yourself up to date with what is happening on our social media channels. Here you will find important updates about coronavirus, study conditions and upcoming events that you can attend (virtually). On our Instagram profile, you can find loads of beautiful photos of groningen and our university buildings, instagram takeovers from key figures at the university and students as well as short 30 second reels highlighting a few of the unique aspects of the UG. As always, if you want to learn more about our university and city from a student's perspective, take a look at our Student Blogs! If you would like to learn some surprising facts about Groningen, I would recommend taking a look at this blog. Another great way to get to know the University of Groningen is to participate in a Massive Open Online Course offered by the university! You can read through some of my favourite MOOCs in this blog.
Although you cannot physically be welcomed at the UG currently, there are so many ways to experience our university and city! I hope you enjoy what there is on offer, and we all hope to be part of a more 'normal' student life soon.
About the author
Luc
Hi there! I am Luc, a South African student of International and European Law. In my spare time you will find me consuming Netflix, playing guitar and singing, cycling around, spending time with friends and whispering "what a cutie" to every dog and cat that happens to walk past me in Groningen!