Doing Two Master's programmes at the University of Groningen - student perspective
| | |
| --- | --- |
| Date: | 24 March 2021 |
| Author: | Avital |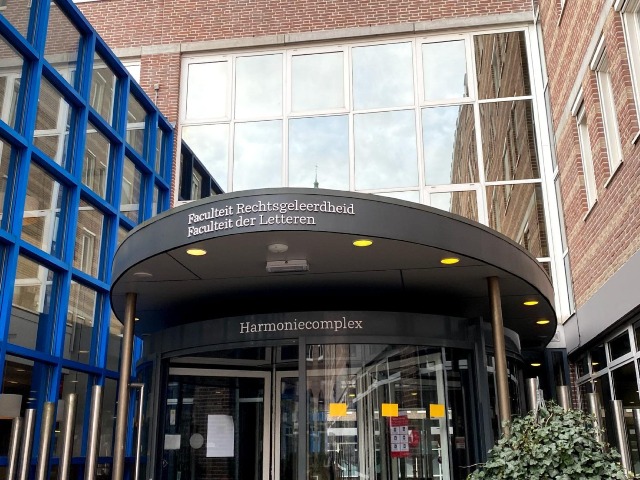 The UG offers many Master's programmes, and choosing the right one for you takes some time. In order to help you make your choice, I've talked to Jessica, who is currently pursuing two Master's programmes at the UG - the LLM in Energy and Climate Law (ECL) and the LLM in Public International Law (PIL). Curious how she made her choice, why she chose these programmes and how it's been so far? Then keep reading! Are you also looking for a programme at the moment? Sign up for this week's Online Master's Week and find the right programme for you.
Hi Jessica! Can you briefly introduce yourself?
My name is Jessica, I'm originally from Germany and came to Groningen in 2016 to do my LLB in International and European Law. I loved the programme and the city, and since the LLMs offered here were in my field of interest, I decided to stay.
What programme(s) are you currently studying and can you give a brief introduction of what it entails?
I am now studying the LLM Energy and Climate Law. In this programme, we learn a lot about how the EU has been working to move away from the nationalised energy markets of the 20th century to create a more competitive and efficient European market. This is done so that energy becomes more affordable for consumers, to make sure that energy is always available so that we can go about our daily lives, and to incentivise companies to innovate and become greener.
How did you make the choice for this particular programme?
During my Bachelor's, I became quite passionate about public international law, and the courses included in the Public International Law Master's sounded perfect to me. At the same time, climate change and renewable energy were issues that I spent a lot of my free time thinking about since I was young, so I also felt quite drawn to Energy and Climate Law. Actually, there were even two more LLMs that interested me, but I previously eliminated those options, because I felt the other two offered job opportunities that suited my interests better. Thus, I signed up for the information sessions about PIL and ECL during the Master's Week. Unfortunately, I'm not the most decisive person, so while I found the presentation given about ECL itself much more compelling, I knew I couldn't let go of my passion for PIL. Therefore, I ultimately enrolled for both of the programmes.
Were there particular courses or aspects of the programme that stood out to you?
I remember that the Energy and Climate Law presentation was given by two relatively young lecturers, and they told us the LLM would entail an excursion to the European Commission in Brussels, which I found really exciting. It was a subject area I hadn't learned about at all in my LLB, and it generally seemed rather new and dynamic, which was an interesting contrast to Public International Law, as the latter is built on a fairly long tradition.
How have you experienced the programmes so far?
The Energy and Climate Law programme covers interesting topics, but, personally, I find it a little challenging to really engage with the subjects without actually being in a classroom with everyone else and having discussions with both classmates and lecturers. This was an aspect I really enjoyed in my Public International Law Master's. However, something I have really appreciated in the ECL programme has been having to negotiate mock contracts as group assignments. Our groups would be assigned roles of imaginary States, corporations, regulatory authorities, citizens' initiatives, etc., who sought different outcomes (e.g. cheap renewable energy for their town), and we had to negotiate contracts based on this. This has provided me with insight on how the things we learn in class could be applied in practice.
Now that everything's online, can you give us an idea of what the programme looks like?
In the first semester, we usually had about 9 hour of class per week; now we have 3 hours a week in order to give us time to write our theses. Like most of the programmes at the Law Faculty, that means that it largely consists of self-study. You have to read a lot of literature and case law, which is then discussed in the lectures. We have three-hour classes, which take place online, on Blackboard Collaborate. The first two hours are a lecture; in the third hour we usually present our group assignments. These assignments could be contract negotiations as mentioned above or presenting important case law, for example.
Have there been any opportunities to get to know your fellow students outside of your classes? What kind of extracurricular activities do you take part in?
About half of the students in my LLM actually came to Groningen; the other half stayed in their home countries due to the ongoing pandemic. Earlier in the academic year, we sometimes went on walks or to restaurants together, but this has not been possible with the stricter coronavirus measures. We try to keep in touch via our WhatsApp groups. Since I have already been in Groningen for a while, I am fortunate enough to already be involved with a lot of people from previous years (e.g. from committees, from my studies, etc.). I currently work for the UG as a student assistant in the International Marketing department, and I am also the Chair of the Green Office Embassy for the Faculty of Law. This is already my third year in the latter organisation, as working together with people who are as enthusiastic about making the UG more sustainable as I am really energises and inspires me.
Do you already have plans for after your Master's?
My interests are very broad, but my favourite options would be to do human rights-related work in an NGO, governmental or international institution, or to be a diplomat, but the field is very competitive, so fingers crossed!
What's your number one tip for choosing a Master's programme?
I would definitely attend the Online Master's Week presentations about the programmes you're interested in - it provides a lot of insight into the programme (you can ask any questions, even about the types of assignments they give), and you even already get to meet some of the lecturers! If you happen to know anybody who did the Master's you're thinking about, definitely ask them for their honest opinion and experience. Lastly, trust your instincts - the expectations I had were met by the programmes I ended up choosing.



Are you currently looking for a Master's programme? Join our Online Master's Week this week (22-26 March 2021) to find a programme that suits your interests! During this week, you can attend online presentations about all of our Master's programmes, learn more about student life at the UG and get answers to any questions you may have. You can find an overview of all the presentations on this page and can register here.
About the author
Avital
Hoi hoi! My name is Avital, Israeli by nature, Dutch by nurture and always on the lookout for cute cats! My life motto is "when in doubt, dance it out"! When I'm not dancing around my room, I'm most likely learning yet another language or working on my Linguistics degree.
Comments