Doing an Internship After Your Studies - A Student's Perspective
| | |
| --- | --- |
| Date: | 08 May 2021 |
| Author: | Ariana |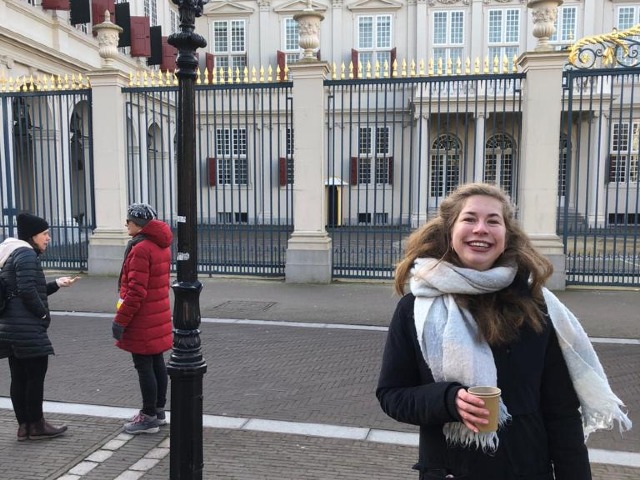 While some programmes require students to do an internship after their studies, others simply consider doing an internship because of the professional experience they may gain. In any case, considering to do an internship at the end of your studies can be a big yet exciting step. With so many things to take into account, such as which company to apply to, the workload, etc., it's great to hear someone else's experience to help guide you through. That's why today I've brought back a familiar face, Danique (you might remember her from our previous blogs), to find out more about her experience with moving to the Hague for an internship in public affairs! Curious to find out how she found this internship, and how she's adapting to a full-time work environment during the pandemic? Keep on reading to find out.
Hi Danique, welcome back! Could you briefly introduce yourself?
Hi! My name is Danique, I am 22 years old and I am currently in the last part of my MA International Relations & International Organization at the UG. I recently moved to the Hague for my internship!
What internship are you currently working in, and could you briefly describe what it entails?
I'm doing an internship at a Public Affairs & Stakeholder Management firm. Public Affairs advisors act as agents between the public and private sectors. We help businesses with developing a strategy to advocate their interests in local, national, or EU government policy. My role as an intern is to assist the advisors by creating stakeholder analyses, overviews of contact details of relevant organizations and public figures, and a lot of market research.
Was there anything in particular that motivated you to do an internship after your studies?
Well, besides that it is a mandatory part of the MA IRIO in Groningen, I was motivated to do an internship because it gives you an opportunity to experience your field of expertise in a much more practical way. While I've been studying political strategy and international governance and organization for years, I didn't really have an idea how it actually all functioned in real life. It's also a great way to learn practical skills that you don't learn from a textbook, like basic professional social skills or how to use Excel (I had to watch a Youtube tutorial, but hey, I can Excel now). Due to the pandemic, we were offered the option to switch the mandatory internship with an extra research seminar. I'm really glad I chose the internship, despite the corona measures, as it has already taught me a lot of valuable skills.
How did you find the process of applying for internships?
It was pretty tough, as due to the pandemic a lot of the 'usual' IR positions—such as working at an embassy or consulate-general—were discontinued until further notice. This meant I had to look beyond the plans I had made pre-corona and think of what sectors were closer to home, which is how I ended up at my current internship! The process of applying was still pretty tough, as I didn't want to end up not having an internship, so I sent open job applications to lots of Public Affairs firms, despite there not being a vacancy, hoping they would reply. Luckily they did!
Compared to a full-time study schedule, what does your schedule look like now that you are working?
I work 40 hours a week, with very few free days. This work schedule has taught me that I definitely did not put in the 40 hours a week that a study curriculum says students do when I was still studying. It's different in the sense that it is much more structured. While the days feel longer, due to fewer breaks, it is so nice to be able to be done at the end of the day and not have to worry about work until the next morning. While it took me some time to adjust to 8 hours a day, 5 days a week, I've gotten the hang of it now. The biggest advantage: no work whatsoever on weekends!
Are you currently working from home? If so, how do you find the online work environment?
Because the team I work in is pretty small, we're able to go into the office twice a week. This really helps in getting to know my colleagues better and to understand the work I'm doing better as it's much easier to ask someone a question when you're sitting across from them instead of having to call or email someone. Usually, when I am in the office, I'll do more of the 'social' part of my work, like meetings or asking questions. The days I work at home, I have fewer meetings so I try to spend those days on more time-consuming tasks where it's nice not to be interrupted while doing them.
What are some skills that you have learned (or improved on) during your internship?
So far, I'd say learning how to work more efficiently and time-management. Obviously, these are things you learn during your studies as well, so it's not really a new skill, but it's definitely one to continuously try to improve.
Also, picking up the phone. I hate that that's a skill I've only just begun to properly develop, but hey, I'm a millennial.
Do you have any tips for students who want to do an internship after their studies?
Do an internship!! That is my only tip. It's a great way to learn more about your field of work and it gives you a better idea of what kind of jobs there are in your field! It's also a great practical experience that really helps you put your theoretical knowledge into practice. It's also a breath of fresh air after five years of theoretical studies.
Doing an internship after your studies is the perfect way to bridge the gap between your student life and your professional career. Of course, many students may find the prospect of finding an internship during the pandemic to be quite challenging. Want to learn more about how to find an internship? Danique has also written a blog full of tips on how to find internship opportunities and score a great position!
About the author
Ariana
Hey! I'm Ariana and I'm a Costa Rican student with a passion for photography, dancing, and cute dogs. Aside from writing blogs, I'm doing my Bachelor's in Media Studies. If you see me around smiling at my phone, I'm probably looking at memes (or cute dogs).