King's Day 2018 Bucket List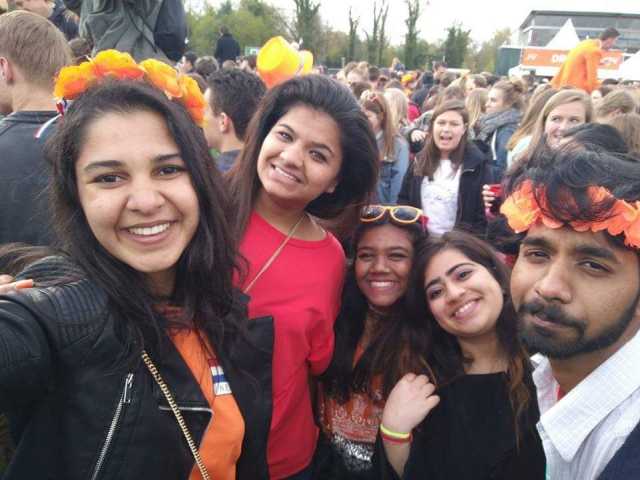 First time celebrating King's Day in the Netherlands? We've made a bucket list, so you'll know what to do (and what not to do).
First of all, party so much on King's Night that you are barely alive on King's Day. This makes all the below so much more fun.
Dress up in the most ridiculous orange costume you can find - then regret that cameras exist afterwards
Eat so much oranje Tompouce that you wish you had never been born
Buy something useless at the flea market and then never use it (e.g. VSH tapes of your favourite Disney movie)
Sell something useless at the flea market (e.g. a puzzle with some of the pieces missing) and walk away with some fool's money
Crash a random Kingsday party
Lose all your friends and just make new ones - it's easier that way
Celebrate that there are no lectures on this blessed day by studying (not serious, please don't do this)
Proudly display your Dutch flag
Laugh at a tourist who has no idea what's going on
Go to the Grote Markt and listen to the Dutch ruin classic hits
Rent a boat with some friends on the canals in Amsterdam
Go to Kingsland and rap along to Kraantje Pappie
Work out at a Kingsday bootcamp
Proudly enjoy an Aperol spritz in celebration - and pretend it's not the most bitter taste you ever tasted
Teach an international student the National Anthem (or learn it yourself)
Do the orange edition of the bike of shame the morning after Kings day
Try to eat seven beschuitjes in under a minute
Play a Dutch game - my grandma recommends sjoelen and the King loves koekhappen
Comment on how weird Dutch games are (spijkerpoepen, really?)
Pay €2 to throw eggs at somebody (yes it's a thing)
Make an orange cocktail
Wear a mask of Willem or Maxima's face (can buy at SoLow)
Go see the King!
Did we miss anything? What's on your bucket list?
Comments