The hunt for a perfect home
| | |
| --- | --- |
| Date: | 18 December 2017 |
| Author: | Anna |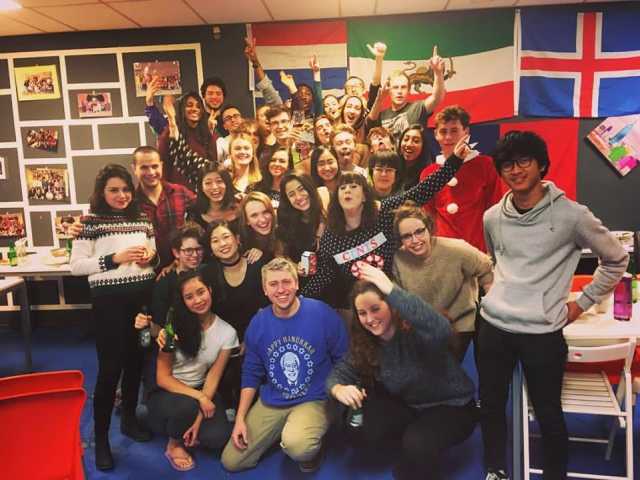 If you are a prospective student about to start life at the University of Groningen or if you've already been studying in Groningen for a year or two and want to get to grips on how to secure the best accommodation during your studies, then look no further! This blog article is here to help you on your hunt for the perfect home, where you can relax, put your feet up and really get down to enjoying life in Groningen.
SSH
Finding the perfect home for the duration of your stay while at University is very important, because it can either greatly contribute towards your student life in Groningen, or take away from it if you find yourself living in a bad environment.
As an international student, the moment I discovered I'd been accepted to study at the University of Groningen, I scavenged the internet for signs of student housing and stumbled upon SSH International Student Housing. SSH offers the chance to live in a variety of student accommodations, rooms and apartments throughout Groningen. Each accommodation offered by SSH has its own distinct character, such as the giant Frascati beside the Central Train Station, home to 210 people and great if you want to party, or the smaller, more intimate Blekerslaan just South of the city for those who would prefer to get more sleep!
The accommodation that really caught my eye, however, was the cosy looking Moesstraat 16, placed directly between the city centre and Zernike campus, home to 45 international students, a common room the size of a whole floor and a courtyard that lies beneath an elegant clock tower belonging to neighbouring student house Moesstraat 8. This house was well within my budget of €350 -€450 a month and also neighboured Noorderplantsoen, Groningen's park that radiates beauty in every season; from the glassy lakes, sprinkled with frost in winter, to a blossoming purple and white flower invasion in spring.
My experience of Moesstraat 16 was a rollercoaster of fun since I was lucky enough to move in with some of the kindest people I've ever met – one of whom is my current boyfriend of over a year! The house was a strong social base, as many of us formed close friendships and would even celebrate each other's national holidays together, such as American Thanksgiving, with the Americans showing us how to 'properly' roast a turkey, as well as attending an Indian Diwali festival where I had never danced so much in my life!
However, if you are a person that prides themselves on living in a clean environment, some student accommodations may strike you as a challenge, since, in my case, sharing a kitchen with 45 other students meant that things could get pretty messy. However, there are always other options, such as the neighbouring Moesstraat 8 which had a reputation of being much cleaner, as there was a kitchen on every floor, as well as the option of having an en-suite; so if you chose to live there, the moment you made friends from Moesstraat 16, you could party your time away with your neighbours with none of the cleaning up involved!
Yet it must be kept in mind that all SSH houses offer only 1 year or 6-month contracts, so once the initial year of fun is over, you must be prepared to find somewhere else to live. In addition to this, there is a specific date on which SSH releases the rooms to rent online, (for me it was the 1st of May) so in order to secure your perfect room, be sure to get online on this date as early as possible!
SSH housing is ideal if you really want to amplify your social experience within Groningen for your first year of study, also the friendships you create in this student accommodation can form a basis for finding people to live with during your second year – I am currently living with two friends from my first student house.
Facebook pages
If living in a big accommodation with a large number of other students isn't really your thing, then fear not! There are many other ways to find your perfect room or apartment in the city, including numerous Facebook pages such as WSG Student rooms Groningen, Student Housing Groningen, Zimmer in Groningen, Student Rooms Groningen and many more. This method of finding accommodation is free and can be very effective. The way that it works is that people post photographs of their rooms on the Facebook page. If you like the look of the room, you can send them a message and you may be selected to come and view the house. However, be prepared to put in the hours if you opt for this method because Facebook pages are the approach many students take to find a room and there will be a lot of competition.
Housing Agencies
If you are willing to pay a little more to find the perfect room then I would recommend using a Premium Account Kamernet, which allows you to browse through advertisements and housing profiles, providing you with the opportunity to send messages to landlords. If this all seems a little tricky for you and you would prefer to get assistance with the whole process, or you are searching for a particular type of house for a certain number of people, the best way to go about this is through a housing agency who can provide help with every step of your house hunting journey, until you find the perfect place to prop your feet up and call home. If this all seems a little overwhelming, the municipality Groningen has set up a website to help international students make their way through the housing jungle.
Overall, finding the perfect accommodation can be a long process, but it is definitely worth it in the end and will greatly add to your time in Groningen – after all, home is where the heart is!
Anna
Remember: If you are planning to study in Groningen, remember to start looking for housing as soon as possible! If you have any questions, feel free to send an email to prospectives rug.nl or take a look at AtHomeInGroningen.
Comments