Five Veggie Pasta Recipes for the Poor Student
| | |
| --- | --- |
| Date: | 11 May 2018 |
| Author: | Odile |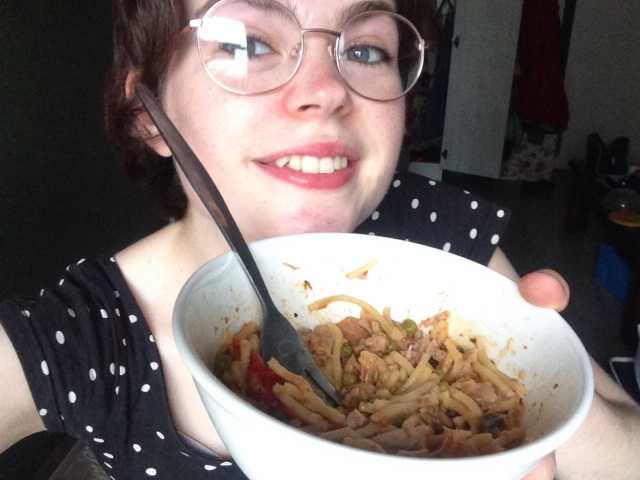 I love cooking, but cooking can become tedious when there are a million other things to be doing. It's hard to know what to throw in the pan, particularly when the fridge is full of random impulse purchases. Money and time are precious resources for us students, so here are some recipes that can save both! These are veggie recipes but feel free to do your own take and add some meat.


Good Ingredients: Navigating the Market

The food market is a great spot to pick up your veggies or meat. It takes place at the Vismarkt takes place on Tuesday, Friday and Saturday. It can be a bit overwhelming at first. When I first went there I panicked and accidentally bought an entire kilo of spinach! It's always good to have a list or an idea of what you will get before arriving to avoid repeating my mistake. The market also has a great selection of herbs, fish, bread and there's even a cheese stand that does discounts if you bring your student card.

It's also useful to get an idea of some Dutch phrases. When they say "wie is aan de beurt?", they are asking who is next and "anders nog iets?" means "anything else?". "Ik" means "me" and to ask for something you can say "mag ik alsjeblieft…". Of course, speaking Dutch is always daunting, but this is a great place to start as you have all of the names of the fruit and vegetables written in front of you to help you through it!

Once you have bought all of your ingredients… time to get cooking!


The Classic: Mushroom Spinach Pasta

This is the easiest and most simple recipe that I sometimes refer to as the pasta pesto upgrade. You can get frozen spinach in cream for around 50c at the supermarket and it makes for a delicious creamy base. You could also use mozzarella or creme fraiche. All you have to do is throw some mushrooms, onion and garlic into a frying pan and start boiling the linguini. Then you can add the spinach with cream and some fresh parsley, oregano, pesto and cherry tomatoes. There's usually plenty of leftovers so it's a great one to cook for friends or to annoy your housemates by packing the freezer to capacity!


Something New: Pasta Tempeh with Greens

I have to admit that tempeh might not seem like the most appetising food given its rubbery appearance and the fact that its fermented tofu. However, after getting past my initial fears I've grown to love it! If the slightly bitter taste isn't isn't for you, you can always boil it. This makes it more porous so it takes on seasoning more readily.

One of my favourite ways to season it is to fry it in fresh chilli and garlic with a little bit of soy sauce. While doing this you can boil some broccoli and cook kale in a separate pot. Bring these ingredients together with noodles and soy sauce. For the final touch add some pine nuts and a sprinkle of pepper. It's super tasty and healthy!


Comfort Food: Pasta Bake for Heartbreak

A wonderful cross between mac and cheese and vegetarian lasagne. Due to a good amount of melted cheese and bechamel it qualifies as excellent comfort food. It's a versatile dish so you can easily throw in what leftover veggies you have. Here's one combination I really like:
First things first, you have to preheat the oven at 180C. Get the macaroni started, as you will need them cooked before putting them in the oven. Grate some carrots and chop courgettes, onions, garlic and fennel. Cook the fennel in the microwave in lemon juice and olive oil for around 7 minutes. Fry the rest of the veggies except for the grated carrots. Once this is done, it's time to start layering the veg in an oven dish. Pour chopped tomatoes and the juice from the fennel over the veg as you fill the dish. If you're looking for extra sustenance you can also add beans in tomato sauce.

For the bechamel, you can either buy the readymade white sauce or try to make it yourself. I have had many failed attempts, but once you get it right you can make almost any kind of sauce! All you need to do is mix an equal amount of butter and flour in a hot pan, continuously stirring while adding milk to get rid of lumps. Top off your glorious veggie dish with the mac, bechamel and a good dose of cheese. Sprinkle with some salt and pepper and watch it get crispy in the oven… lekker!


The One Pot Wonder: Spaghetti Chilli with Cherry Tomatoes

This is a recipe from my mother which has been a blessing to me this year. It is so quick, tasty, and best of all, there are so few dishes to wash up after! Get your best pot and arrange onions, garlic, chillies, cherry tomatoes and spinach across the base of it with spaghetti placed on top (make sure there is plenty of olive oil). Add enough water and veg stock to just cover it and leave it to cook for around 15 minutes. This allows all of the flavours go into the spaghetti as it cooks and it is delicious! A great seasoning for this is to serve it with fresh basil.


Impress your Friends: Squash and Feta Fusilli

This dish is my favourite. An experimental combination that works out fantastically, it is a mix of squash, onion and courgettes with feta cheese, white white wine, creme fraiche, fusilli and pecan nuts. It is complex enough to make your friends think you are a real chef and easy enough to make it look like you know what you're doing in the kitchen!

Start by frying onion courgette and garlic, and then add squash with some water, veg stock, fresh sage and parsley and leave it to cook. Once the squash is soft you can pour out most of the water and add white wine, feta cheese, a little bit of creme fraiche and chopped up pecan nuts to the mix. This all goes great served with fusilli pasta and a dash of salt and pepper.

Eet smakelijk and please share your best recipes with me or let me know in the comments!
Comments