8 festive films to watch during the holiday season (golden oldies & new ones)
| | |
| --- | --- |
| Date: | 28 December 2022 |
| Author: | Hylke |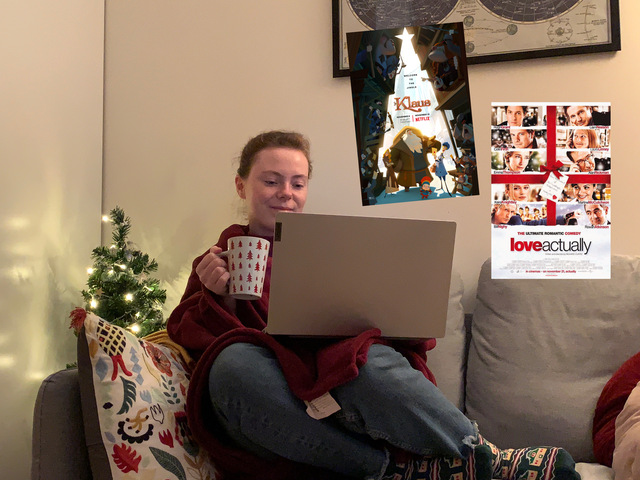 It's THE season to watch a film while being curled up in a blanket on the sofa with a hot drink and some leftover holiday food. Ranging from golden oldies - such as Love Actually (2003) - to some new ones - such as Arthur Christmas (2011) - here are several students' favourite festive films to watch during the holiday season!
Hylke:
Dash & Lily (2020)
I can't recommend this Netflix series enough! I binge watched all episodes in two days when it first came out. It's such a nice, carefree series with a great storyline and an awesome soundtrack. Dash & Lily follows teenage New Yorkers Dash and Lily who pass a red notebook back and forth in which they write challenges for each other. By completing these challenges they get to know each other and get one step closer to meeting each other. That's how we know that Lily is a true optimist and a real Christmas lover, while Dash is cynical and doesn't like Christmas at all. If you love a good Christmas romance, this one is definitely for you!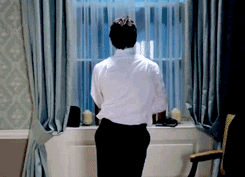 Love Actually (2003)
Love Actually is a true golden oldie. Every Christmas, my family and I watch this film at least once. The cast is amazing (hiiii Keira Kneightly, Hugh Grant, Emma Thompson, Alan Rickman, Colin Firth and Liam Neeson), just as the soundtrack and all the different storylines. While I can play the film from the beginning to the end in my head because I have seen it over and over again, I still get teary-eyed during some scenes or laugh at Hugh's dance moves as if I see them for the first time. I won't reveal anything about the plot because it's better to let the story unravel (and you've probably seen bits of it anyways by now). Go watch this film (again)!!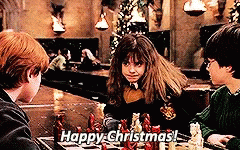 Avital:
Harry Potter and the… (ALL OF THEM, 2001-2011)
Alright, I know that the Harry Potter series might not be the first thing you think of in relation to the festive season but wait!!! The holidays do make an appearance in almost all of the films so they definitely count. With 8 films in the series, this is perfect for binge watching when it's freezing outside.
Do I need to introduce you to the plot of Harry Potter? Probably not but here's a very short summary just in case. The series tells the story of an orphan boy called Harry Potter who discovers that he is a wizard on his 11th birthday. He is invited to join Hogwarts, the School of Witchcraft and Wizardry, much to the disdain of his muggle aunt, uncle and cousin who he lives with. During the series, we join Harry's journey throughout his school years. From discovering magic and the wizarding world to fighting Lord Voldemort and unravelling mysteries hidden in the castle. Not quite the average school experience. However, the beauty of this series is that, between all of the magic, there are also a lot of relatable events. We see the characters manoeuvre through their formative years - from dealing with loss and learning to stand up for what you believe, to growing up and falling in love. If you've never watched the films - do it! If you have, do it again! ;-)
The Holiday (2006)
Each year, this film marks the official start of my festive season. The first time I saw it was in the cinema with my mother and I've watched it at least once a year ever since. That's how you know we're dealing with a true classic!
In the film, we follow the stories of Iris and Amanda. Iris is a columnist who works for a newspaper in London, England. Amanda works as a producer in Los Angeles in the United States where she creates trailers for new films. Both women are unlucky in love, with Iris still hung up on her ex Jasper and Amanda finding out that her boyfriend has been cheating on her. To escape their troubles, they both decide to sign up for house swapping for the holidays. That's how Iris ends up in sunny LA and Amanda in the snowy Cotswolds. The Holiday has everything you want in a great holiday film: a predictable romance, festive music and lots of great actors.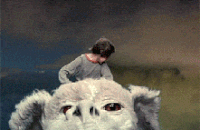 Anne:
The NeverEnding Story (1984)
The NeverEnding Story is a classic film about imagination, creativity and childhood, and is told as a story within a story. It follows a young boy who escapes into a world within a book where he goes on a great quest to defeat the ''Nothing'' which is quickly consuming the world.
I saw this film as a child, but I probably was a bit too young because only the "scary" scenes had stuck with me. Because of this, I had forgotten about it until I saw it again a few years ago. If you had a similar experience and haven't seen the film in years or have never seen it, definitely give it a watch around the holiday season! The story is beautiful and has some classic children's book messages that fit the holiday theme very well in my opinion. But the most spectacular part is the imagery of the film; it feels like stepping into a fairytale illustrated with vibrant colours!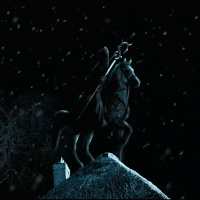 Sint (2010)
Sint is a Dutch film that takes the story of Sinterklaas in a unique and gruesome direction. If you're not into warm and fuzzy christmas films, but prefer something a little more sinister during the dark winter evenings, Sint is my recommendation for you! Even though it's meant to be a horror film, it has an almost silly quality to it because of the obviously ridiculous logic of the film and some of the choices made in the cinematography. I watch Sint regularly with some friends around Sinterklaas, and it always manages to make us laugh at times. But don't forget it can be scary at times!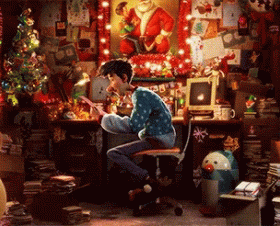 Maja:
Arthur Christmas (2011)
While this film first came out in 2011, I only watched it recently and I absolutely loved it. It is an animated film about Santa's son Arthur Claus who goes on an adventure with his grandpa (a former Santa Claus) to deliver a gift that was left behind in Santa's headquarters on the North Pole. Over the years, Arthur's brother has automatised gift delivery and saw this one present not being delivered as a marginal error. Arthur refuses to give up on this one child and decides to deliver the present himself with the help of his elderly grandpa and a quirky elf. While it is a very entertaining watch, it also reminds us that - in this crazy world where we strive for maximum efficiency - we tend to forget the human side of things. Give it a go if you want to watch something lighthearted and fun!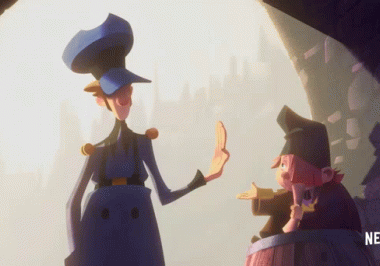 Klaus (2019)
This film has definitely become a holiday classic for me since it came out a few years ago. It is a very wholesome story of a spoiled boy who is sent to the town of Smeerensburg (think North Pole) to work as a postman. The only condition his father sets for him to return to his abundant lifestyle is to deliver a certain amount of letters. He quickly realises that this will be impossible since nobody sends post in this feud-driven town. Then, he comes up with an idea: if he can deliver toys to children, children will write letters to him to get them. So, he befriends a toymaker named Klaus and they set on an adventure to deliver toys to all the children of Smeerensburg.
Klaus is a true masterpiece that teaches us that small acts of kindness can make the world a better place. So, grab a cup of hot cocoa and gather your loved ones and I guarantee you that you will have a great time watching this film!
So, these are all our recommendations for you! If you want some more you can check out our previous festive films post. What film are you watching this holiday season? Let us know in the comments. Happy holidays!
About the author
Hylke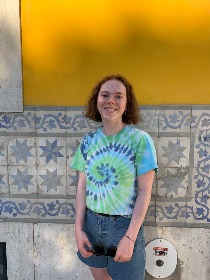 Hiya! I'm Hylke, a Dutch MA English Literature student. People often ask me if I'm Frisian, but sadly I'm not; I just have a Frisian name. I love reading, writing, meeting with friends, and the colour yellow, so much so that I take pictures of every yellow wall I can find!
Comments