UG Meet & Greet: Perspectives on polarization
Friday November 18, 2022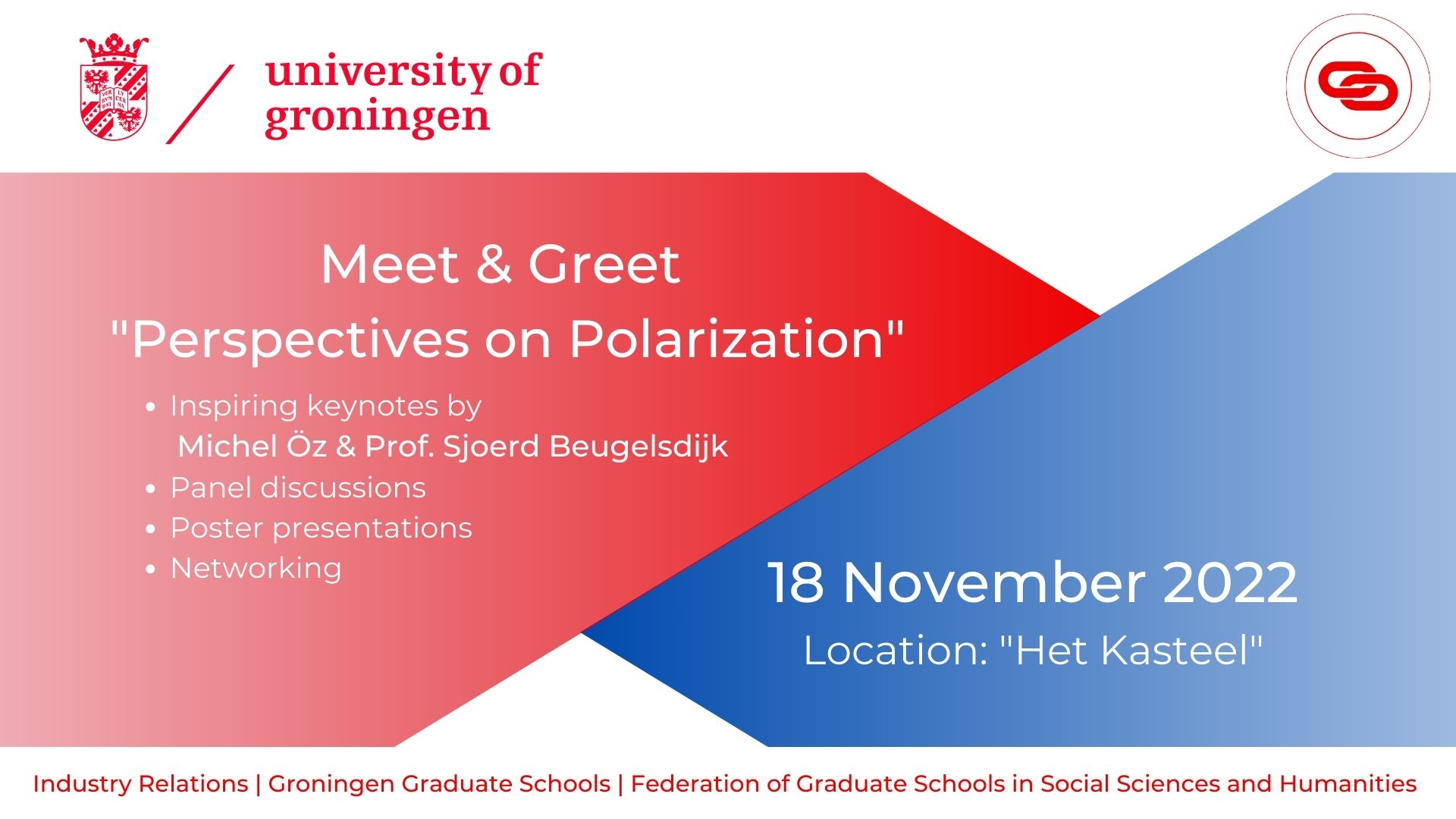 You are invited to the UG Meet & Greet event "Perspectives on polarization"
When? 18 November 2022, 12:15 pm
Where? "Het Kasteel", Melkweg 1 in Groningen
During this event, we will share perspectives on polarization. In various panel sessions, we will discuss the role PhD candidates, early career researchers as well as (junior) policy makers and other societal actors can play in understanding and approaching polarization.
The programme will kick off with interesting keynotes by:
After these keynotes have set the stage for us, we will split up to discuss several issues regarding polarization in four different panels. You can choose two of the four panels, which will take place in two parallel sessions.
Topics to be addressed will be (among others):
Causes and effects of polarization
(Re)building trust through participatory democracy
Roles of the media
Bridging the gap between polarized groups in society
Practical approaches to polarization
Examples in the panels based on several current issues (Covid vaccinations, earthquakes in Groningen, farmers' protests, Zwarte Piet etc.)
Panel chairs will be:
To tackle these challenging subjects, they will be joined by experts in their field from both inside and outside academia such as Willem Groeneveld (Sikkom), Wouter Kruithof (Municipality of Groningen), Esther Neven (Behavioural and Social Sciences) Liesbeth van de Wetering (Province of Groningen), Davide Grossi (Science and Engineering), Nephtis Brandsma (Municipality of Groningen) and Konstantin Mierau (Humanities).
Outline of the programme:
The location will open at 12:15 for walk-in & registration
12:45 - Opening
12:55 - Keynote by Sjoerd Beugelsdijk
13:25 - Keynote by Michel Öz
13:55 - Explanation of the rest of the programme, change rooms
14:00 - Parallel panel sessions 1A + 1B
14:55 - Short break, change rooms
15:00 - Time for further discussion, informal networking, poster presentations & drinks
16:00 - Parallel panel sessions 2A + 2B
16:55 - Short break - change rooms
17:05 -Closing remarks
17:20 -18:00 join us for drinks, snacks & networking
All the rooms we will use are on the same floor of the location. The floor can be reached via the stairs or the elevator.
-----------------------------------
For whom?
This event is aimed at young researchers and representatives of governmental organizations, but also at entrepreneurs, companies and non-profit organizations with specific interest in the societal impacts of polarization and opportunities to build bridges between parties at opposite ends of an issue.
By whom?
It is organized by the Groningen Graduate Schools, the Federation of Graduate Schools in Social Sciences and Humanities and the team of Industry Relations.
-----------------------------------
Some background information
Polarization is on our minds, as policymakers and government officials are increasingly confronted with a polarizing political and societal landscape. This has resulted in an increased need for interdisciplinary approaches to effective governance, in order to build bridges between polarized parties within society. A growing part of society does not accept information or regulation provided by governments, academics and policymakers as facts or as the solution to problems.
This presents challenges and opportunities for societal actors and researchers alike: How can governments and academia identify relevant societal challenges? What societal and cultural phenomena contribute to polarization and how can governments take these factors into account? How can policymakers collaborate with other societal actors to create policy and regulations that are accepted by society at large?
By bringing together experts from within and outside academia, this event aims to provide young researchers who have a background in social sciences and humanities with a valuable opportunity to exchange findings with peers and representatives from societal actors. In turn, societal actors, who bring policy and regulation into practice, are presented with substantial and potentially refreshing ideas and experiences surrounding their challenges concerning polarization in society.
Poster presentation
We invite researchers and other participants to present their research and innovation projects by means of a poster. If you are interested in participating with a poster presentation, please indicate this with your registration. A submission process will be used for poster presentations in which your poster will be reviewed for feedback. Specific guidelines will be shared after registration.
More details about the programme and speakers will be added to this website.
Registration
Register now using the button below! We will keep you informed about the event and we look forward to meeting you on November 18. Walk-in and registration starts at 12:15 pm.
| | |
| --- | --- |
| Last modified: | 07 November 2022 2.14 p.m. |