Sustainability Ambassadors Campus Fryslân
What is the Green Office?
The Green Office is an initiative from the University of Groningen that takes care of promoting sustainability in higher education. There is a central green office organization in Groningen and each faculty has its own sustainability ambassadors. The green office is a platform where students and employees connect to shape ideas and launch projects at the university, all with the objective to stimulate sustainability. These projects can be both academic in nature through research projects or more operational in nature through practical projects.
Sustainability Ambassadors Campus Fryslân
The sustainability ambassadors of Campus Fryslân focus on themes that are related to the sustainable development goals of the United Nations. For example, we can think of projects that promote health in the workplace or projects related to climate action, for example making the canteen more sustainable. A few examples of projects that were initiated at Campus Fryslân by the sustainability ambassadors:
A cycling tour with Campus Fryslân employers from Groningen to Leeuwarden. This tour was part of the Elfwegentocht, an event in 2018 during which everyone in Fryslân was encouraged to travel fossil free for a two-week period.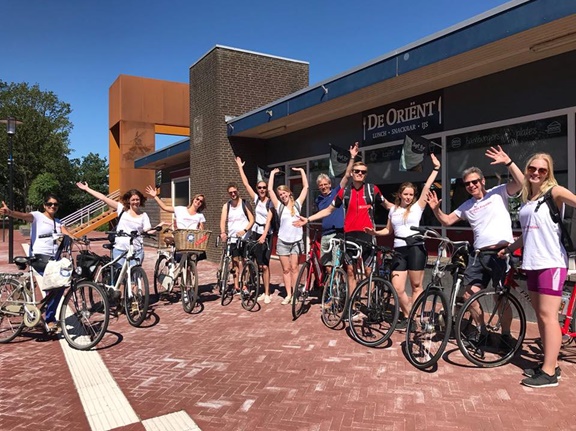 Student Ambassadors Campus Fryslân
We need your help! Become a Student Ambassador and contribute to making Campus Fryslân more sustainable. Each faculty has a group of student ambassadors who are making their faculty more sustainable. They host all types of activities, ranging from cooking workshops, film evenings and guest lectures to a complete; health week; So there possibilities are varied! Becoming a student ambassador for the green office includes:
Organizing events related to sustainability.
Networking opportunities with colleagues and students.
The opportunity to make the world a better place.
Being part of a sustainable community in the University of Groningen and the chance to meet like-minded people.
Being a student ambassador to the Green Office is a voluntary position and can start from two hours a week, depending on your interests and time schedule. For more information or enrolling for an ambassadorship, please send an email to greenofficeCF rug.nl
More information can be found on the Green Office pages on the University of Groningen website.
| | |
| --- | --- |
| Last modified: | 11 September 2020 3.45 p.m. |