A new stop for the Neighbour and Neighbour Van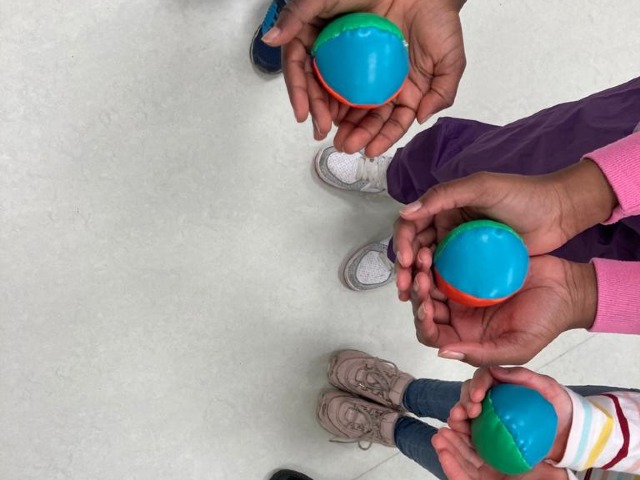 This year's final project for the course Introduction to Global Health was done in collaboration with an amazing community initiative: Buurvrouw & Buurvrouw Bus. A Buurvrouw is a neighbour in Dutch.
The goal of the Buurvrouw & Buurvrouw Bus is to (re)discover the value of the neighbour in an effort to move towards a more social and inclusive society. When you ask: "who needs a neighbour?", the answer is, of course, everyone. This also means that everyone can be a neighbour themselves; it is a title free from gender, age, origin, religion, etc.
The philosophy of the Buurvrouw & Buurvrouw Bus is unorthodox in many ways. For example, the van is not sponsored by anyone and operates under the "no money no rules" principle. This is to prevent transactional giving and receiving of help and encourage more neighbourly mutual aid. The main question of the initiative is: "How can you be a neighbour?". This question is also very important for children. When they grow up, they will live in their own neighbourhoods and be neighbours themselves. In order for these children to develop their knowledge, skills, and talents, it is necessary to know what their perspective is, what their opinions are and what they dream of. In this way, we can start improving the community now, so we can pass on the torch in ten years time.
It is in this light that the van stopped at Campus Fryslân for the final project. The slogan for our bachelor programme Global Responsibility & Leadership is "Global Challenges, Local Solutions", but a lot of the program remains theoretical. This final project provides an excellent opportunity to both help the local community and to gain first-hand experience through participatory research. Groups of students organised activities to do with children from a public primary school in Leeuwarden called Oldenije. The activities we engaged in ranged from fun games to short interviews and drawing exercises to find out as much as possible about the ideas children have about their neighbourhood and how to improve it. This campaign is challenging and unique in its own way. For example, communication with children can be quite difficult as they have a very different vocabulary. The students have to be careful not to lead children on in their questions and let them take the lead. They have to observe, listen, and take notes in order to understand what is important to the children.
To prepare students for this project, they were offered the opportunity to follow extra sessions on participatory research with children by two amazing Iranian researchers: Seyed Babak Moosavi Nejad and Sara Bagheri. These sessions focused on important aspects of participatory research with children, such as the positionality of the researcher and how to deal with biases and power imbalances that can result from that.
With this knowledge in mind, the students designed a research setup in order to gain more knowledge about what makes neighbourhoods healthier. This campaign is not meant to stay solely in Friesland. Its ambition is global and the fact that many of our students are international fits well. It is also unique in that it has no educational element in it for the children.
The goal is to learn from the children, they have just as much to offer us as we have to offer them. In this way, students can provide useful feedback to everyone involved with the Buurvrouw & Buurvrouw Bus regarding the needs and wants of children, and, in turn, the students learn to work with children and get to be part of the local community in Leeuwarden. As the teaching assistant for this course, I greatly enjoyed seeing the students prepare with Babak and Sara, overcome language barriers and work together with the children. The final project took place on the 27 th April, and we will update you all when the results are in!