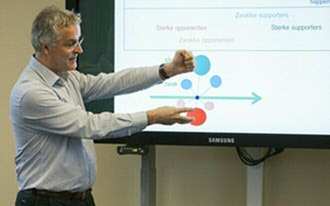 De Nederlandse gezondheidszorg behoort tot de beste van de wereld. Toch, en dat weet ook u als professional, staan we voor grote uitdagingen. Het betaalbaar houden van zorg en welzijn is daar één van. In de praktijk spelen economische afwegingen dan ook een steeds grotere rol. Daarnaast wordt de burger, cliënt of patiënt steeds meer geacht de regie over de eigen gezondheid te nemen. Deze ingrijpende veranderingen zetten onze zorg- en welzijnsinstellingen verder onder druk.
Kennis én leiderschapsvaardigheden
Hoe kunt u als professional met deze veranderingen en innovaties omgaan in uw organisatie? Hoe behoudt u uw medewerkers in de huidige krappe arbeidsmarkt en hoe houdt u daarbij de kosten in bedwang? Van managers en leidinggevenden wordt verwacht dat zij leiderschapsvaardigheden tonen en actuele kennis hebben van de economische en bedrijfskundige aspecten van de sector. Deze kennis biedt ons 7-daags programma Management & Economie in Zorg en Welzijn, speciaal ontwikkeld voor leidinggevenden en professionals uit de zorg- en welzijnssector. De kennis, inzichten en vaardigheden die u opdoet, leert u direct toe te passen in uw eigen werkomgeving.
Docenten
Vooraanstaande experts van de Faculteit Economie en Bedrijfskunde en het UMCG zijn verbonden aan dit programma, aangeboden door de University of Groningen Business School (UGBS) en ontwikkeld in samenwerking met ZorgpleinNoord en de Aletta Jacobs School of Public Health.
| | |
| --- | --- |
| Laatst gewijzigd: | 16 oktober 2023 11:13 |