Prof. dr. Eric Bleumink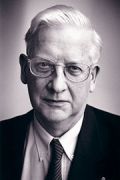 Honoured
'I am honoured that the initiative has been named after me. Of course I don't own the Fund; it belongs to the donors and the students and researchers who receive grants. I am not on the Board either, but I do keep up with the developments.
The other day I attended Magetsari's PhD ceremony, for example. He received a grant from the Fund for research into the reuse of orthopaedic implants. This can mean the difference between invalidity and a 'normal' life for people in developing countries. It is a good thing that the Fund enables these projects.'
This statement by Eric Bleumink was published in Broerstraat 5 in May 2005, on the occasion of the fifth anniversary of 'his' Fund. The text below, which explains why the Fund was named after him, dates from five years before that date.
Inspired and involved
Eric Bleumink retired as chairman of the Board of the University of Groningen on 24 May 2000 . Other positions he has held include those of Rector Magnificus and member of the Board of the Faculty of Medical Sciences. Prof. Eric Bleumink set an example of inspired leadership with a distinct personal style. He advocated embedding the university more firmly in society, at regional, national, and international levels.
His commitment to his fellow men and academia is illustrated clearly by his efforts to improve cooperation between the university and sister organizations in developing countries. His efforts helped to make this cooperation an integral part of university policy.
In his various capacities, Prof. Eric Bleumink has made substantial contributions to the university. The academic community owes a debt of gratitude to him. They wished to express their gratitude by setting up a fund named after him. The Eric Bleumink Fund offers students from developing countries the opportunity to study in Groningen for a year. This will not only improve the cooperation between the University of Groningen and universities in developing countries, but will also elevate the level of scientific expertise in these countries. Prof. Eric Bleumink has endorsed this initiative.
| | |
| --- | --- |
| Last modified: | 11 July 2019 1.09 p.m. |