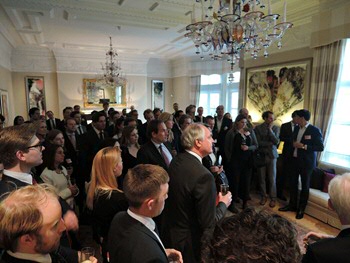 This city has the highest concentration of alumni outside the Netherlands. No less than 850 UG alumni live and/or work in this metropolis. It called for the creation of an alumni circle! The first alumni meeting was held in April 2017 at the residence of the Dutch ambassador in London. Within two days a waiting list was installed for the more than a hundred interested alumni. During the meeting there were inspiring speeches by alumnus, CEO Unilever and chairman of the Ubbo Emmius Fund, Paul Polman and the chairman of the UG Executive Board Sibrand Poppema.
Expand your professional network with former Groningers
In order to receive invitations for these events you can sign up for the mailing list.
For more information join the LinkedIn group UG Alumni in London, or send an email to the Alumni Relations & Fundraising department: internationalalumni@rug.nl.
'I think it is nice to connect with other alumni who had similar experiences. It is interesting to hear about how the UG is doing at the moment and what other alumni did after graduation'
UG Alumnus, Alumni Survey 2016
Alumni Commission
Together with the Alumni Relations and Fundraising Department the Alumni Commission organizes events two to three times per year. This commission consists of:
Marjolein Regelink (Law, 2011) - Chair
Magdalena Langosch (International Business, 2015)
Jetske van Dijk (International Relations, 2017)
Daniel 'O Neill (American Studies, 2015)
| | |
| --- | --- |
| Last modified: | 11 July 2019 1.38 p.m. |