Hong Kong
Alumni Community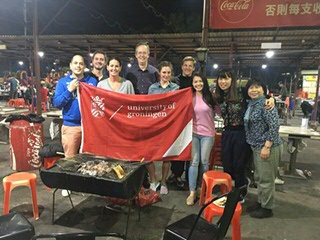 About 250 University of Groningen alumni live and work in Hong Kong. A growing community that knows each other since 2012. Arjen Vogel runs the alumni community together with Wilko Wielinga and Charles Drapers to make sure that the group stays connected, can network with each other, share experiences, help each other, and foster curiosity.

What to expect?
Meet fellow alumni in your area. Alumni who you may remember from your time in Groningen or alumni who graduated long before or long after you. Overall, a great network to be in touch with to talk about your study time, get career advice, extend your professional network, and stay connected with your alma mater.
Groningers in Hong Kong actively support Spinoza Prize winners', professor Theunis Piersma, PhD student, Ying-Chi Chan, who studies migration ecology of threatened shore birds in East Asia.
Together with the board of the alumni community we will organise a variety of meetings such as: walking tours, topic related presentations and discussions, as well as our annual pub quiz about Groningen.
Get in touch with fellow alumni?
Let us know that you would like to join the alumni community by sharing your contact details, so we can inform you about upcoming events in the area. You can also join the LinkedIn Group to stay connected with alumni in Hong Kong.
If you would like to share an idea, become an active member in the region, share your experience of working abroad with our students or write a blog contact the Alumni Team via internationalalumni@rug.nl.
Together with the Alumni Relations and Fundraising department the Alumni Commission organizes around two meetings per year. The following alumni are part of the team:
Arjen Vogel (President, International Relations and Organisations - 2017)
Wilko Wielinga (Business Administration - 2008)
Charles Drapers (International Relations and Organisations - 1990)
Expand your professional network with former Groningers
In order to receive invitations for these events you can sign up for the mailing list.
For more information join the LinkedIn group RUG Alumni in Hong Kong, or send an email to the Alumni Relations & Fundraising department: internationalalumni@rug.nl.
| | |
| --- | --- |
| Last modified: | 04 July 2023 1.22 p.m. |