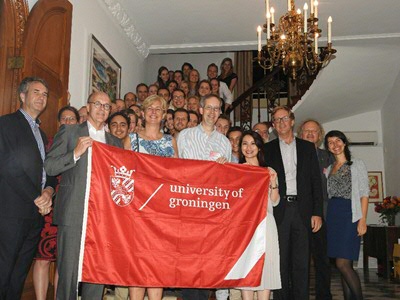 About 150 alumni live in the larger Hong Kong area. The circle got its start with the former consul general and UG alumnus Wilfred Mohr in 2012. He gave gave shape to the circle and often had alumni visit him. After his return to the Netherlands, five enthusiastic alumni picked up the baton. They organize all kinds of meetings, such as a pub quiz or Sinterklaas evening.
During these events, attention is paid to the PhD research by Ying-Chi Chan. She examines, under the supervision of Spinoza winner prof.dr. Theunis Piersma, migratory birds such as the Godwit in Northeast Asia.
Expand your professional network with former Groningers
In order to receive invitations for these events you can sign up for the mailing list.
For more information join the LinkedIn group RUG Alumni in Hong Kong, or send an email to the Alumni Relations & Fundraising department: internationalalumni@rug.nl.
'I did not know that my time in Groningen meant so much to me. This is a way to keep in touch abroad'
UG Alumnus, Alumni Survey 2016
Alumni Commission
Together with the Alumni Relations and Fundraising department the Alumni Commission organizes events twice to three times per year. This commission consists of:
Charles Drapers (International Organisations, 1990)
Arjen Vogel (IRIO 2017)
Wilko Wielinga (Business Administration, 2008)
| | |
| --- | --- |
| Last modified: | 21 April 2021 12.44 p.m. |