Testimonial Jingyi Liu (China)
alumna MSc Finance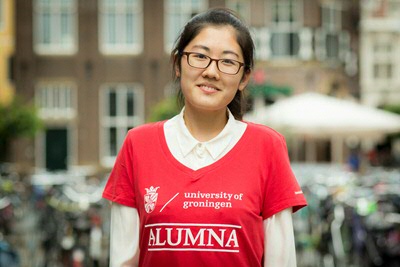 A great international reputation
The one-year experience in Groningen as a master student of MSc Finance program entirely exceeded my expectations and left a precious memory for me. As being a top 100 university around the world, the university of Groningen provides high-quality education and research programs in a wide range of disciplines and subjects with great international reputation. The Faculty of Economics and Business belongs to the 1% of business schools worldwide with both EQUIS and AACSB accreditations. According to the annual Elsevier Student Survey, all BSc and MSc programs in FEB rank top 3 in the Netherlands; among which the MSc Finance program I participated in took the No.1 position in last year's ranking. Therefore, during the one-year study, I have developed academic analysis and problem-solving skills in broad areas such as portfolio management, corporate finance, corporate valuation, derivatives, institutional investing, risk management and behavioral finance, etc.
Student-centered education and communication
Interactive teaching displays the student-centered style of education and leads students to have convenient contact and communication with lecturers during and after lectures. Besides the classical theories, the latest theoretical and empirical researches are also introduced in guest lectures or tour visits co-held by faculty partners including the multinational corporations, public institutions and government departments. Meanwhile, students are trained to develop more practical and professional capacities via various forms of well-designed tutorials and assignments. To put it in short, MSc program students of RUG will systematically be trained to develop both academic and professional skills and keep up with the latest global trends. Furthermore, you can always receive efficient and effective help and guide from both university and faculty level if you have questions or are in a trouble. I am very grateful for all the kind help and encouragement from my thesis supervisor Pro. Dijkstra, the study advisor Ms Love, the student desk and the student center within the year. The supports and aids received from university do strengthen the confidence of every student and contribute to our success.
Both peaceful and energetic
The Groningen city is also very attractive and charming. The more you experience, the more comfortable you will feel. Being one of the oldest student city, Groningen vividly exhibits both peaceful and energetic characteristics. In the youngest average population city in the Netherlands, you always have a chance to make lifelong friends. The city was awarded as the safest city in the country last year, which is a reassuring news for both foreign students and their parents. After having studied and lived in Beijing for five years, I feel the one-year life in Groningen thoroughly refreshed myself from both physical and mental perspectives. I love the city very much and regard it as my another hometown. You would never regret to choose the University of Groningen as the place make your dreams come true. Hope you can also enjoy the life in the city and achieve a great success there!
| | |
| --- | --- |
| Last modified: | 11 July 2019 12.56 p.m. |