Amabili Lorenzo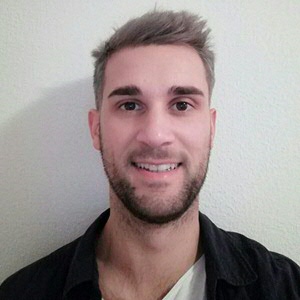 Amabili Lorenzo is an Italian PhD student in Computer Science at the Faculty of Science and Engineering. His main research interests are Visual Storytelling, Data Visualisation and Human-Computer Interaction. At the moment, he is working on the project Visual Storytelling of Big Imaging Data in the Scientific Visualisation and Computer Graphics group led by Jos Roerdink, in which they develop a visual tool for exploration and communication of medical imaging data.
How did you come to be at the University of Groningen?
After achieving a MSc degree in Statistics at the University of Leuven, I was looking for PhD projects/positions related to my studies (i.e., Statistics, Machine Learning and Data Visualisation) and I found this project at the University of Groningen. So, I applied for it, and after a successful job interview in Groningen, I became a PhD student.
What is it like working as a support staff for the University of Groningen?
I very much appreciate working at the University of Groningen for a variety of reasons. First, it is a prestigious well-ranked University which makes me proud to work for. Second, the working environment is friendly and open. People are just nice, welcoming and collaborative. Then, the University provides you with all that you need to work in great conditions and at ease.
How would you describe your work?
My work is mostly black and white, there is not much grey. It is frustrating, hard, upsetting, tedious and nonsense, but also satisfying, rewarding, interesting, exciting and varied. Nothing in between to me. Doing a PhD is a roller coaster of emotions, and being conscious of this can be the key for successfully completing and enjoying it.
In brief, my work is about reading papers and books, doing research, coding, performing user studies, teaching, supervising students, writing articles, collaborating with other researchers, making presentations and going to conferences. So, surely I would not use the adjective boring for my work at least.
What makes your job as a support staff at the Faculty of Science and Engineering so much fun, and interesting?
The Faculty of Science and Engineering means flexibility and cosiness. The environment offers you the facilities needed to work and to relax when needed, such as coffee corners. Colleagues can easily become friends and staff members are always friendly and helpful. One can quickly feel at home at the Bernoulliborg (I walk around the building with slippers).
What is the University of Groningen like as an employer?
Being an employer at the University of Groningen is a great privilege. The job conditions are excellent, and I feel considered as a valuable worker, and I am grateful for this. The salary is also good and more than enough to live in Groningen at ease. In addition, it is possible to benefit from different bonuses for buying laptops, tablets and bikes which I found a nice plus.
How would you describe the University to outsiders?
Working for the University of Groningen is like working for someone who creates a positive workplace culture for you to fully express yourself, enjoy and grow in harmony.
What is it like to work and live in Groningen?
Groningen is not a metropolis: one can reach any place by bike which is the only thing really needed in Groningen. This makes the city very liveable, calm and clean.
In the evening, the city is usually very active and it offers various entertainments such as cinemas, disco clubs, pubs, cultural events and festivals. Moreover, there are some parks which make the city quite green. I like all of this here and this harmonic atmosphere is difficult to find in other places.
| | |
| --- | --- |
| Last modified: | 24 September 2020 07.01 a.m. |