Tussen Kunst en Kitsch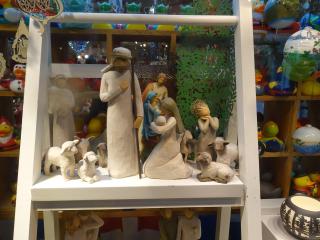 Wat doe je als inwoner van Stockholm wanneer de dagen kort zijn en het weer grauw en grijs? De dag eindigt hier al om 15:00 uur.
Dan ga je in een café of restaurant zitten en geniet je van de geneugten des levens.
Of je gaat shoppen. Dat doen de Zweden graag. In het oude centrum van Stockholm zijn gezellige smalle straatje met hele leuke winkeltjes. De etalages zijn rijk gevuld met prullaria, hebbedingetjes, kunst en wat dies meer zij. Voor elk wat wils. Meestal zijn de etalage's overvol ingericht en zie je door de bomen het bos niet meer.
Trollen staan gebroederlijk naast elanden, kabouters, sneeuwbollen, vikingen, paarden, bierpullen, beren, kerstpiramides en andere kleinigheden van bedenkelijke kwaliteit en een doorgaans kortstondige levenduur hebben. Maar je kunt er ook mooi Swedish Design tegenkomen.
Op de drukke zaterdagmiddag, tussen het monteren van een filmpje en de ontmoeting van Ben Feringa en minister Bussemaker, had ik een uurtje over en kwam de volgende interessante verlichte etalages tegen.
Trouwens, de ontmoeting tussen Ben Feringa en minister Bussemaker had helaas al plaatsgevonden toen wij bij het zeer chique Grand Hotel aankwamen. We waren helaas verkeerd voorgelicht.