Suddenly I feel like Tintin in Stockholm
| | |
| --- | --- |
| Datum: | 10 december 2016 |
| Auteur: | Riepko Buikema |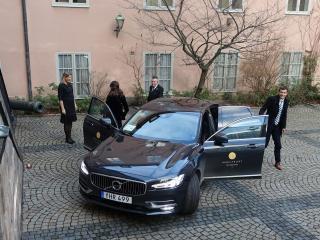 Can anyone think of a good title for this embryonic blog? Anything's better than 'Peter and Riepko in Sweden'! Fellow reporter Eelco Salverda came up with the goods: Tintin in Stockholm!
It was just a joke, of course, but his suggestion was a lot closer to the mark than I could ever have imagined last week in Groningen. I experienced so many wonderful things yesterday that I could write ten stories about them. What a day, what a day!
So I have a problem. Where in heaven's name do I start? What about suddenly finding myself next to Ben Feringa on the back seat of the official Nobel Volvo being driven through Stockholm? (I'm not much of a car fan, but UG spokesman Gernant Deekens immediately apped me that it was a brand-new S90 – you know, the one that Zlatan Ibrahimovic drives in the advert, although he has an even larger model of course).
Should I write about arriving at the beautiful Dutch Embassy where the chauffeur opened my door first? Or how Feringa told Rector Magnificus Elmer Sterken the story of how he taught one of his old students attending the party how to make the chemical compound of a drug that is now totally banned everywhere? Or that I received such a warm welcome when we visited the Bromma Gymnasium that I was given a seat in the front row with Stoddart, Sauvage and our own Ben? That Stoddard moved me to tears during his presentation with a very personal story about his deceased wife? How totally impressive it was to experience time and again how the energy, warmth and infectious enthusiasm of Feringa inspires so many students and lecturers?
I hope you'll forgive me for this blog full of personal experiences. I couldn't have enjoyed myself more! I just had to get it all off my chest. I'm keeping the wise words of Feringa's trusty lieutenant Tineke in mind: 'They may be scientists, but they're just people too. And the personal stories are the best ones.'