Being a 'Flying Reporter' can be very hard work
| | |
| --- | --- |
| Datum: | 09 december 2016 |
| Auteur: | Peter van der Sijde |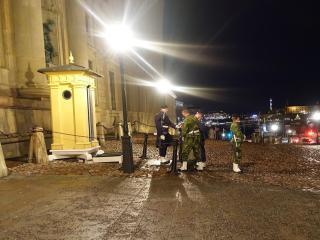 After Ben Feringa's wonderful Nobel Lecture in the Aula, our next goal was to catch him just before the Nobel Concert for a quick photo opportunity. We were in good time, we thought... but we missed him.
So what do you do when you suddenly have time on your hands? We didn't have to choose a photo or write a matching piece.
Luckily, Stockholm has enough to offer to fill your time usefully and enjoyably. The district of Gamla Stan lies in the Old Town on the island of Helgeandsholmen. There's lots to do there. Beautiful buildings, old houses, fantastic restaurants and, last but not least, the Swedish Parliament House (the Riksdag). We walk around the Riksdagshuset, but the chances of bumping into a politician at night are not high. So, on we go through the narrow streets to the Royal Palace. It is huge (over 600 rooms) and is still being used as a working palace.
There are sentries posted all around it just like at Buckingham Palace. The men, and yes they are always men, are allowed to stretch their legs every now and then. The one we are watching regularly marches 100 metres to the left, does an about turn and returns to his position in his sentry box.
Suddenly we heard loud footsteps and two soldiers and a sentry marched around the corner. We thought it was time for the changing of the guard, but it wasn't. The marching soldiers were bringing the solitary sentry a hot cup of coffee (it could have been Glühwein, but we couldn't see for sure). Why the caterer was accompanied by two soldiers is a mystery to us. Perhaps the palace is so huge that there's a chance of getting lost. Sweden is a sociable country!
Go to my Google+ website to see the photos of Stockholm by Night.