Atmospheric Stockholm, European city of light
| | |
| --- | --- |
| Datum: | 10 december 2016 |
| Auteur: | Peter van der Sijde |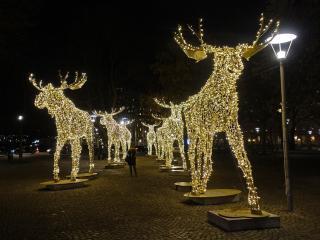 After a very warm welcome at the Dutch Embassy and a fantastic performance by Ben Feringa at the Grimstagatan primary school, we head off in the late afternoon to the Nordic Museum, where the official reception for the Nobel Laureates is going to be held. We haven't been invited, but maybe we'll be able to snatch a photo.
We wander slowly along the many quays in Stockholm and absorb the wonderful views.
So what if it is not the official European city of light, Stockholm can give Paris a run for its money any day! Everywhere in the city you can see wonderful hanging garlands of light alongside spectacular standing light creations.
I couldn't resist sharing one of these light art works with you. They marched towards us like a military convoy.